BOTOX® Cosmetic & Dysport®
In the Scottsdale – Phoenix area, BOTOX Cosmetic and Dysport top the list of the most popular cosmetic treatments with our patients from Tempe and Chandler, AZ, and beyond. These FDA-approved injectables can dramatically reduce the look of fine lines and wrinkles on the upper face. These products are very safe when they're injected with precision and into the appropriate muscle groups. Dr. Hobgood and his highly trained aesthetic nurses perform all injections in-office to ensure the best patient outcome.
What Are BOTOX Cosmetic & Dysport?
Both BOTOX Cosmetic and Dysport use an active ingredient called botulinum toxin that can temporarily relax muscles when injected just beneath the skin's surface. These products ease the look of wrinkles that develop as the result of repeated facial expressions, such as frowning, squinting, and brow raising. BOTOX has a number of applications in both aesthetic and clinical medicine, including treating muscle spasticity, tremors, and voice disorders. Of course, it's most well-known for its ability to treat wrinkles and fine lines on the face.
Where Is BOTOX Most Commonly Used?
These are the most common treatment areas (see illustration):
Forehead furrows ("worry lines")
Glabellar lines (vertical lines between the brows)
Crow's feet or smile lines at the corners of the eyes
Can BOTOX Lift the Eyebrows?
In addition to fighting wrinkles, BOTOX and Dysport can provide a gentle lift to the brows, which often sag slightly with age. These products may also be used to treat certain lines around the mouth, although dermal fillers such as JUVÉDERM VOLBELLA® and Restylane® Silk are typically better suited for treating these concerns.
What Is a Liquid Facelift?
A liquid facelift is a combination of BOTOX Cosmetic injections and dermal filler injections. By using injectables to treat multiple age-related concerns across the entire face, patients enjoy comprehensive facial rejuvenation results without surgery.
Other Treatment Areas for BOTOX Injections
Some less common cosmetic applications for BOTOX include the BOTOX lip flip, which can make the upper lip look fuller. We can inject BOTOX for the reduction of a "gummy smile" and for jawline slimming (masseter reduction). BOTOX is also frequently used to prevent excessive underarm sweating (hyperhidrosis).
How Much Does BOTOX Cost in Scottsdale & Phoenix?
Since BOTOX is priced per unit, it is impossible to give a price quote without determining how much BOTOX you will need to achieve your goals. At your consultation, you will be given a detailed price quote for your specific treatment.
Does BOTOX Really Prevent Wrinkles?
In younger patients, we can use BOTOX and Dysport to relax the facial muscles that create certain creases and wrinkles to prevent architectural changes in the skin that eventually develop into deep, permanent creases.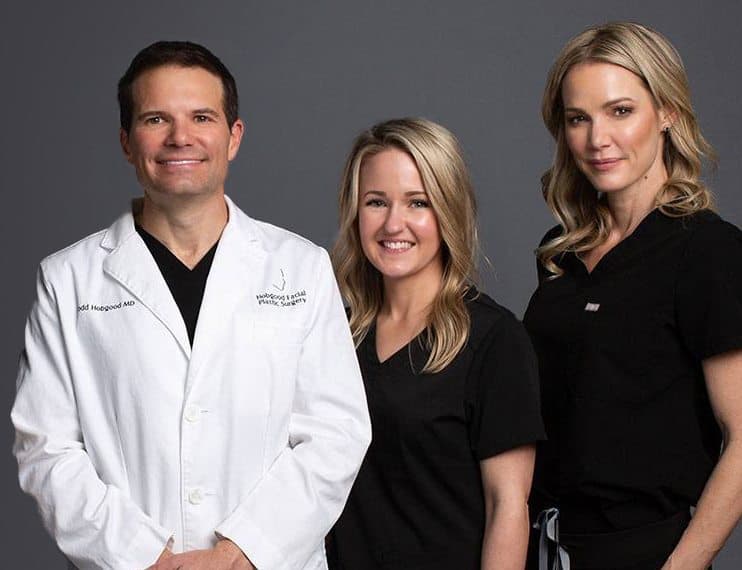 Our Nonsurgical Experts
Dr. Hobgood's aesthetic team creates customized treatment plans tailored to the cosmetic needs of each patient. Ashley Smith is a registered nurse injector who specializes in BOTOX® and filler injections, while licensed esthetician Brooke Scatchard is a certified laser technician.
Meet Our Team
Your BOTOX Treatment Experience
Our Scottsdale BOTOX patients can expect treatment from either Dr. Hobgood or one of our qualified aesthetic nurse injectors. The procedure is performed in our office under sterile conditions. Your injector makes multiple, quick injections with a very small needle. After, you're given a cool compress, ice, or topical cream as needed. We recommend abstaining from intense physical activity until the following day, but you can get back to your light daily activities immediately. Because the needles we use are so fine, you can reapply cosmetics and sunscreen immediately after your appointment.
What To Avoid After BOTOX & Dysport Injections
For the most part, you can return to ordinary activities after your treatment. In order to produce the best possible results, you should avoid laying down for the first 4 hours following your treatment. For the initial 24 hours after your treatment, you should also avoid:
Rubbing the injection site
Strenuous exercise
Drinking alcohol
Using retinol creams
Excessive heat and direct sunlight
You should also avoid alcohol consumption and blood thinning medications and supplements like aspirin, Tylenol, Advil, vitamin E, and fish oil for up to 48 hours before treatment.
Common Questions
How are BOTOX Cosmetic and Dysport different from each other?
BOTOX Cosmetic and Dysport are both non-surgical, non-invasive injectable treatments (neuromodulators) that help to reduce and prevent the formation of lines in the upper face:
In the forehead
Between the eyebrows ("11 lines")
Around the eyes (crow's feet)
While BOTOX and Dysport have a slightly different chemical makeup, they both achieve the same result, last the same amount of time, and cost the same amount. Both medications are safe and available at Hobgood Facial Plastic Surgery.
How long will my BOTOX/Dysport results last?
On label BOTOX Cosmetic and Dysport can have results that last up to 4 months. Maintenance treatments are recommended every 90 days.
A Reputation Built on Results
I wish I could put ten stars by this review.!!! I would HIGHLY recommend Dr. Hobgood. Him and his staff...
the process was very easy and pleasant. everyone who worked there was polite and very helpful, and Dr.Hobgood...
Dr Hobgood deserves more than 5 stars! He takes the time to make sure his patients are comfortable and...
I got a rhinoplasty from Dr. Hobgood in March 2022. I highly recommend Dr. Hobgood and his entire team....
How should I choose my BOTOX/Dysport practitioner?
With so many options available for BOTOX and Dysport injections, it's especially important to choose an experienced physician. Proper injection requires not only good training on technique, but also advanced anatomical knowledge of the exact locations and functions of the facial muscles. Only then can you truly take advantage of the tissue-sculpting potential of the medicine you're paying for. Dr. Hobgood and his nurses perform a careful medical examination and tailor a treatment plan that's unique to your goals. Our team is committed to providing you with a truly exceptional experience.
Will BOTOX make wrinkles worse if you stop getting injections?
No, BOTOX does not make wrinkles worse. When a person stops getting BOTOX injections, their skin eventually returns to its prior, untreated state. In fact, early and consistent use of BOTOX can actually prevent or delay the formation of new wrinkles. So if you stop getting injections, you could theoretically have fewer or lesser wrinkles than you would if you'd never gotten BOTOX.
What's the best age for BOTOX or Dysport?
Many people start getting BOTOX in their 30s or 40s as they start noticing the appearance of "expression lines" that don't go away. However, increasingly people in their 20s are getting "preventive BOTOX" to keep lines and wrinkles from forming in the first place. Even in your 50s or 60s, you can benefit from BOTOX injections, which soften lines and wrinkles and help you look refreshed and relaxed.
Are there any alternatives to BOTOX?
Other than neuromodulators such as DYSPORT, there are no treatments that do exactly what BOTOX does. However, there are several anti-aging treatments that can help with the appearance of fine lines and wrinkles. Chemical peels can renew the surface of the skin and soften fine lines and other texture irregularities. Microneedling stimulates the production of new collagen to help the skin appear smoother and firmer.
Ready To Get Started?
Get to know board-certified facial plastic surgeon Dr. Todd Hobgood and what our injectables can do for you. Request a consultation using our simple online form or call our office at (480) 418-6415 to set up your appointment.