Plastic Surgery
Real Changes. Naturally Beautiful Results.
Everyone wants to be beautiful and look their best, but no one wants to have that, "I've been worked on" look. That's the difference of choosing Dr. Todd Hobgood for facial plastic surgery in Scottsdale, AZ. Dr. Hobgood is a board-certified facial plastic surgeon who uses the most innovative and up-to-date cosmetic procedures known in the industry. And the best part is, the results are real and they look natural. Just check out our photo and video galleries and see for yourself. We provide our patients with astonishing improvements that add to each individual's beauty, without looking fake or overdone.
Our facial plastic surgery patients, who visit from Phoenix, Mesa, Tempe, Chandler, and other cities near Scottsdale, can expect to see significant changes in the areas they want to improve. They are constantly telling us that we've exceeded their goals. Dr. Hobgood uses only the most reliable and trusted techniques. He handpicks his capable staff and uses only the best anesthesia and materials. Why wouldn't you trust your face to a board-certified facial plastic surgeon?

Surgical Procedures
Dr. Hobgood has dedicated his entire career to perfecting surgical procedures of the face and neck. As a nationally recognized and respected facial plastic surgeon, he has been asked to speak before his colleagues and members of the media about his approach to facial surgery that is both natural looking and requires very little recovery time. Surgical procedures such as blepharoplasty, facelift, or facial reconstruction are just a small sampling of procedures that are Dr. Hobgood's forte. For rhinoplasty, Dr. Hobgood's outcomes are exceptional. Click below to learn about all of the different surgical procedures Dr. Hobgood offers.
Dr. Hobgood conducts surgical procedures at Paradise Valley Multi-Specialty Surgery Center. Located in scenic Paradise Valley, this modern facility seamlessly blends advanced technology with refined luxury. Patients can expect an exceptional experience supported by a dedicated staff who prioritize their comfort and well-being. Amenities include private suites for overnight stays, round-the-clock nursing care, and delicious dining options.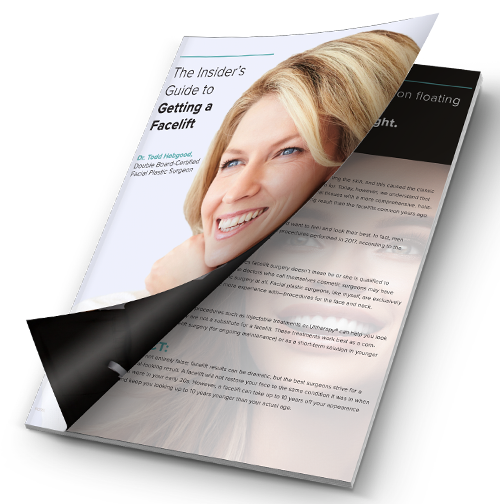 A Must-Have for Facelift Patients
"The Insider's Guide to Getting a Facelift" is the definitive e-book that distinguishes facts from myths and describes the journey of a facelift patient with engaging content and easy-to-understand illustrations.
Double board-certified facial plastic surgeon Dr. Todd Hobgood is one of the leading facelift experts in the U.S., and he's drawn on years of experience to create this Insider's Guide.
Dr. Hobgood's Insider's Guide describes:
Why modern facelift techniques create results that look natural
Who is a good candidate for a facelift
What the difference is between a full and a mini facelift
When you can expect to see friends socially after a facelift
Submit the form below to receive our free eGuide as part of a short series of emails on Facelift.
Fields marked * are required.
Non-Surgical Procedures
Dr. Hobgood has been active in the non-surgical side of facial procedures by keeping up his research and education in the industry. Recognized by his peers as an expert in the field, Dr. Hobgood is active in training physicians and medical professionals in the most modern and effective advances in facial plastic surgery and non-surgical procedures. Dr. Hobgood's practice offers a wide variety of non-surgical facial procedures including:
Hyaluronic Acid Fillers
Skin Care
As the largest organ in the body, it is crucial to keep your skin healthy and happy. Exposure to the sun and other environmental factors can create skin damage and overall stress. As part of his expertise in facial cosmetic surgery, Dr. Hobgood takes the time to consult Chandler and Tempe-area patients about skin treatments that can make your skin more healthy and you more confident.
A Reputation Built on Results
Dr. Hobgood absolutely loves his work! He explained the procedure thoroughly in terms I could understand....
Dr. Hobgood and his staff are the absolute best in the profession. Their attention to detail in every...
This review is long overdue, but I'm 10 months post rhinoplasty and I'm absolutely elated with the outcome....
I had a couple friends go to Hobgood, so I immediately knew I trusted him but once you go into the office...