ClearLift Laser Skin Rejuvenation
Women and men who are concerned about wrinkles, sagging skin, and fine lines but aren't ready for a facelift can opt instead for ClearLift laser treatments at our Scottsdale-Phoenix area practice. The ClearLift laser creates smoother, more youthful-looking skin after a series of quick 30-minute treatment sessions. Known as a "lunchtime lift," ClearLift is a no-downtime procedure that's safe for all skin types.
How Does ClearLift Work?
ClearLift is a non-ablative fractional laser, which means it delivers laser energy deep into the skin without damaging the skin's surface. It is a Q-switched Nd:YAG laser that emits bursts of laser energy concentrated into powerful pulses, stimulating the production of new collagen. Collagen gives the skin its structure, but the body's collagen production begins declining as we reach our late 20s, resulting in loose skin and fine lines. Other factors such as damage from the sun and free radicals can wrinkle, cause blemishes, and break down collagen.
What Areas Can ClearLift Treat?
The ClearLift laser is an excellent option for the face, neck, décolletage, hands, and even larger areas such as the back. It is a comfortable treatment that doesn't require downtime and can create exceptional results after 4 to 6 treatment sessions. It's especially effective on the neck's thin, delicate skin that is sometimes difficult to treat.
In addition to tightening loose skin and minimizing wrinkles, ClearLift treats scars, stretch marks, and photodamaged skin. It is also indicated for melasma & rosacea.
ClearLift treatments typically take 20 to 30 minutes, so you can return to work or other normal daily activities immediately after your appointment.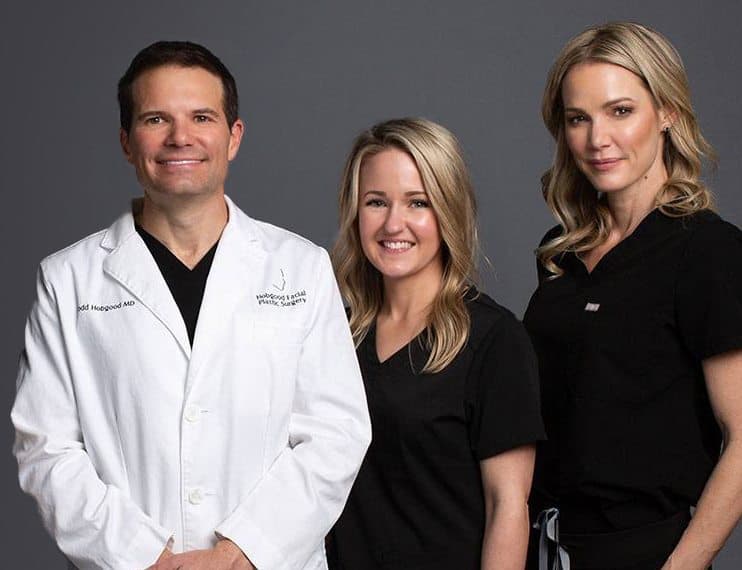 Our Nonsurgical Experts
Dr. Hobgood's aesthetic team creates customized treatment plans tailored to the cosmetic needs of each patient. Ashley Smith is a registered nurse injector who specializes in BOTOX® and filler injections, while licensed esthetician Brooke Scatchard is a certified laser technician.
Meet Our Team
Ready to Get Started?
Bringing back your beautiful skin is easier than you think. Request a consultation with Dr. Todd Hobgood using our online form or call the office at (480) 418-6415 to set up your appointment today.
A Reputation Built on Results
Dr. Hobgood and his staff are just exceptional! I could not have chosen a more experienced and skilled...
I would highly recommend Dr. Hobgood, his work is perfection. I had an eye lift, my eyes are sooo much...
Dr. Hobgood and his team are absolutely amazing!! I get my Botox done with Ashley, who is so sweet and...
Dr Hobgood and his staff are amazing !!! Had Facelift and revision rhinoplasty one week ago. Very happy...