Facelift
Women and men from Scottsdale and Phoenix, AZ, visit double board-certified facial plastic surgeon Dr. Todd Hobgood to learn about the procedure and decide if it is the right choice for them. Dr. Hobgood is also the choice of international patients and those from states nationwide seeking expert care with an experienced and established team focusing only on facial rejuvenation. Having completed more than 1,000 facelifts throughout a very busy career, Dr. Hobgood guides his patients through a thorough consultation all the way to complete recovery. Like all aspects of our practice, only the safest, natural, and long-lasting techniques are considered for our patients.
Who Is a Good Candidate for Facelift Surgery?
Ideal candidates for facelift surgery, who visit from Mesa, Tempe, Chandler, and other nearby cities, are in overall good health and do not smoke or use nicotine products. Women and men typically choose this procedure to take years off of their appearance by:
Correcting sagging jowls for a sleeker, more defined chin and jaw
Restoring firmer, uplifted cheeks
Smoothing lax skin around the mouth and nose
It's important to understand that facelift surgery doesn't affect the entire face. Rather, it focuses primarily on the mid- to lower face and neck. For a more complete rejuvenation, Dr. Hobgood often recommends his Scottsdale patients combine a facelift with a neck lift. During your initial consultation, he will work together with you to identify your areas of utmost concern.
How Much Does a Facelift Cost in Scottsdale & Phoenix?
Generally speaking, patients pay approximately $15,000 for a facelift in Scottsdale and Phoenix; although the actual cost depends on the significance of the procedure. During your consultation, we discuss what you can expect to pay based on your particular case.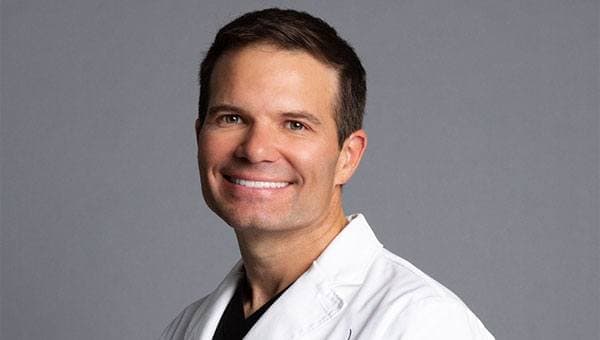 Dr. Todd Hobgood
Dr. Hobgood combines his down-to-earth, personable demeanor with an artistic eye and technical expertise honed through thousands of surgeries, including more than 1,000 facelifts. He's recognized nationally for his leadership and has been honored by the American Academy of Facial Plastic and Reconstructive Surgery for his ongoing commitment to quality.
Meet Dr. Hobgood
What Is a Complete Facelift?
Women and men who visit Dr. Hobgood for lower facial age-related changes—such as thinning skin, loss of natural fat, and bone changes—usually require a complete facelift, often combined with a neck lift. These patients enjoy results from innovative lifting techniques designed to address the "turkey wattle" or neck bands, loose skin along the jawline (jowling), and smile lines (nasolabial folds). Our patients learn about the correct terminology and science of this long-standing facelift considered "best in class" to address our patients' natural aging issues.
What Is the Deep Plane Facelift Technique?
As an experienced facial plastic surgeon, Dr. Hobgood has focused his career on perfecting the deep plane or SMAS imbrication technique for his Chandler, Tempe, and Phoenix-area patients. This technique both restores loosening skin and also redistributes volume back into the facial structures in a long-lasting and natural way. This avoids the pulled or stretched look and maintains the results indefinitely.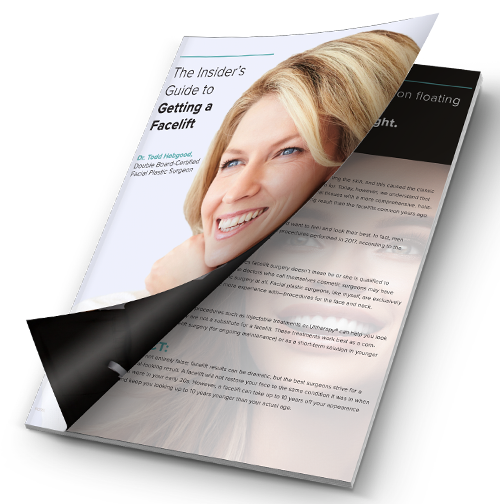 A Must-Have for Facelift Patients
"The Insider's Guide to Getting a Facelift" is the definitive e-book that distinguishes facts from myths and describes the journey of a facelift patient with engaging content and easy-to-understand illustrations.
Double board-certified facial plastic surgeon Dr. Todd Hobgood is one of the leading facelift experts in the U.S., and he's drawn on years of experience to create this Insider's Guide.
Dr. Hobgood's Insider's Guide describes:
Why modern facelift techniques create results that look natural
Who is a good candidate for a facelift
What the difference is between a full and a mini facelift
When you can expect to see friends socially after a facelift
Submit the form below to receive our free eGuide as part of a short series of emails on Facelift.
Fields marked * are required.
What Is a Mini Facelift?
Dr. Hobgood reserves the mini facelift, technically called a SMAS plication lift, for younger patients with early signs of aging who want to make only small changes. This technique is also called a short-scar facelift because the incisions are usually less extensive than with a complete facelift. It is important to be aware that recovery time for the mini facelift is usually comparable to the complete facelift. Essentially, the best candidates for a mini facelift (also called a limited SMAS imbrication facelift) are patients who specifically show premature jowling along the jawline but otherwise have a tight neck beneath the chin.
Your Facelift Surgery
Facelift surgery is an outpatient procedure and takes approximately 4 to 6 hours. A typical facelift procedure requires an incision from your hairline near your temple, around and under the ear, and back to the hairline. If needed, Dr. Hobgood performs a neck lift using a small incision just beneath your chin.
After Dr. Hobgood makes the incisions, he isolates the layers of muscle and fat beneath your skin. Dr. Hobgood repositions the overlying skin before removing any excess. Once finished, he closes the incisions with staples and sutures.
Recreating firmness in skin and muscles is not enough by itself. Care is taken to make sure that your face maintains its full range of muscular movement, so you will still have your own unique appearance. If too many alterations are done, your facelift will appear unnatural. Dr. Hobgood is a skilled surgeon and will give you a rested, youthful appearance.
Dr. Hobgood takes care to ensure your incisions are hidden behind your hairline for deep, lasting results with very discreet scars.
A Reputation Built on Results
Dr. Hobgood is a very skilled surgeon. He is very good at what he does. He has a wonderful bedside manor,...
Dr. Hobgood is seriously a fantastic surgeon. Not only is his work perfect, but he puts your mind at...
Really Dr. Hobgood does not need any reviews! His reputation alone speaks volumes! I took my daughter...
Dr. Hobgood is amazing! I had a rhinoplasty with him and love my results! He's very talented at what...
What Should I Expect From Facelift Recovery?
Your main focus during facelift recovery should be patience. Your face will likely feel tender and tight when you awaken from the anesthesia after surgery. Dr. Hobgood may apply a large, fluffy dressing to reduce swelling after the surgery. If this is used, we replace it in about a day. Dr. Hobgood may also place small drainage tubes in your incisions to reduce the risk of fluid accumulation. We typically remove these tubes a day after surgery.
You may initially experience mild or moderate discomfort following your facelift. Dr. Hobgood will prescribe pain medication if you need it. He also prescribes a round of antibiotics to prevent infection. It is normal to experience swelling and numbness of the skin around the incisions; it usually subsides within a period of weeks.
You should expect to be up and moving about the house within a couple of days. You may wash your hair on the second day after surgery. Those who work relatively sedentary office jobs can expect to get back to work after about 2 weeks, while those with more physically demanding occupations will likely need more time away or a modified work schedule.
In summary, here's a general timeline of a typical facelift recovery, from surgery (day 1) through the first month:
Day 2 – Tenderness, discomfort, tightness, and swelling are all normal at this time. You'll have a follow-up appointment at which your dressings and drainage tubes are removed.
Day 3 or 4 – Bruising and swelling peak around this time. You should rest as much as possible, but you can wash your hair and engage in light activity around the house.
End of week 1 – You may no longer need prescription pain medication. Swelling starts to go down, but may linger for several weeks.
2 weeks – Swelling and bruising should have diminished significantly. Makeup can help you feel comfortable going out socially. You can return to light activities and work if your job isn't strenuous.
1 month – Your results should be apparent and you should be able to engage in all of your normal activities. You may still have some residual swelling, tingling, and tightness that will go away over the course of the next weeks and months. Your incision lines will be pink, but should fade to white or flesh color over the course of several months.
"Dr. Hobgood and his team were great. I felt very comfortable with Dr. Hobgood given his great reputation in the industry. His friendly approach makes you feel almost like a part of his family. thanks for everything."

wildmusicsjl facelift patient on RealSelf.com
Common Questions
What procedures can be combined with facelift?
Dr. Hobgood often combines facelift surgery with other facial rejuvenation procedures. Common additions include:
He has extensive experience with natural Implantech® silicone implants, which restore volume lost due to the natural aging process. With implants, he can create a more natural, fuller shape for the mid-face, temples, and jowls. Fat transfer is often used for facial rejuvenation as a natural filler. As a finishing touch, it's also simple to combine facelift surgery with facial resurfacing treatments, such as chemical peels, lasers, and dermabrasion to correct lip lines, brown spots, and other concerns.
How much younger will I look after a facelift?
This is very subjective, as it depends on your age at the time of surgery, the degree of aging your face displays, and other factors. However, according to a study published by the American Society of plastic surgeons, facelift patients rated themselves as looking 12 years younger after a facelift procedure.
How do I know if I'm too old for facelift surgery?
While there is no upper age limit for facelift surgery, there are health considerations for the procedure. If you're a very healthy 80-year-old, you may be a good candidate for facelift surgery. On the other hand, a 45-year-old who smokes, has diabetes, or is significantly overweight may not be a good candidate for the procedure. Dr. Hobgood will go over your health history and determine whether or not you are healthy enough for a facelift.
Are there nonsurgical alternatives to a facelift?
While there are no nonsurgical options that can produce the same degree of correction as a facelift, there are treatments that can help your skin and facial contours look younger and refreshed. BOTOX® COSMETIC & DYSPORT® can soften wrinkles around the eyes and forehead such as frown lines and crow's feet. And dermal fillers can soften deeper lines and folds around the mouth and chin, as well as restore volume to areas where it is lost with aging. Many people choose these injectable treatments to complement the results of their facelift.
How dangerous is a facelift?
Complications after facelift surgery are remarkably rare; however there is always the possibility of complications with any surgery, and a facelift is no exception. Complications from this particular surgery may include hematoma (pooling of blood under the skin), nerve damage (typically temporary), adverse anesthesia reactions, postoperative bleeding, and infection.
Ready To Talk With Dr. Hobgood?
Get to know Dr. Hobgood and your options for facial rejuvenation. Request a consultation online using our simple form, or call the office at (480) 418-6415 to set up your appointment.