Dermal Fillers
Facial aging involves more than crow's feet, worry lines, and sun damage. We also lose muscle, bone, and fat beneath the skin, gradually deflating certain areas of the face and causing hollows, sagging, and a tired look. Getting periodic injections of  Restylane®, JUVÉDERM®, or one of the many other dermal fillers at our Scottsdale practice can create a more youthful look that still appears natural.
JUVÉDERM VOLLURE® Before-and-After Photos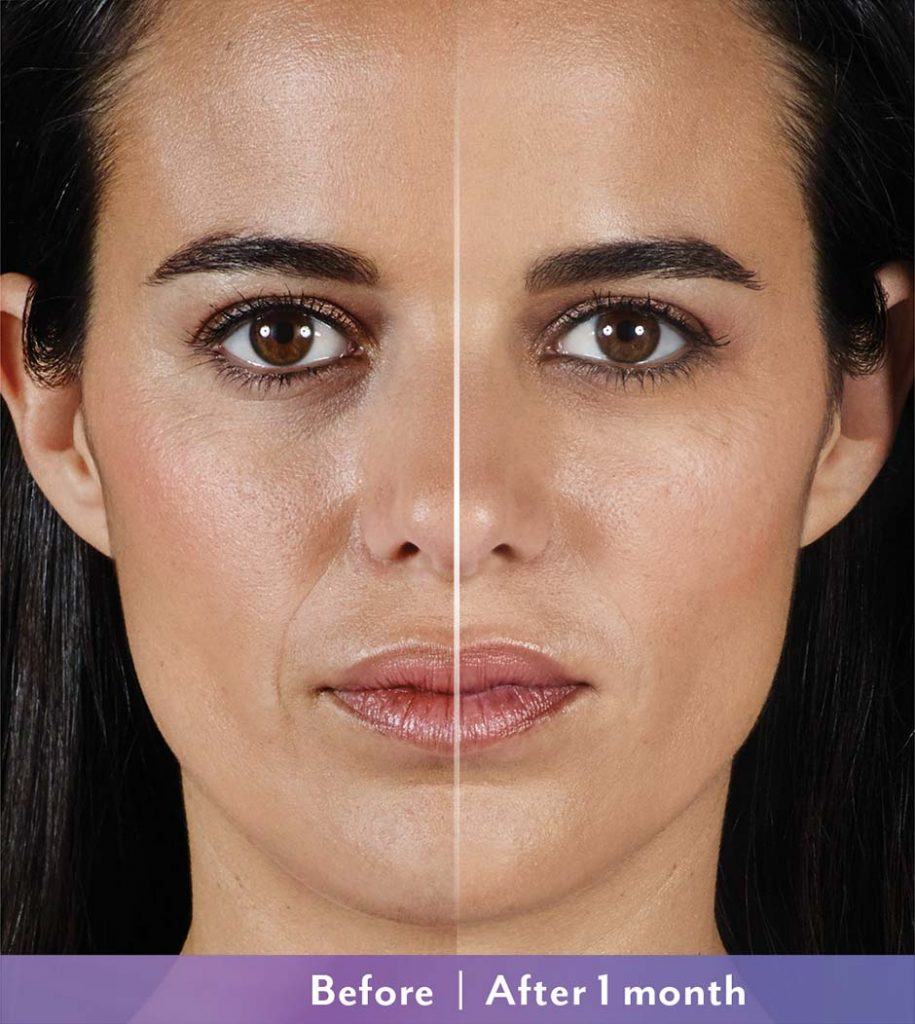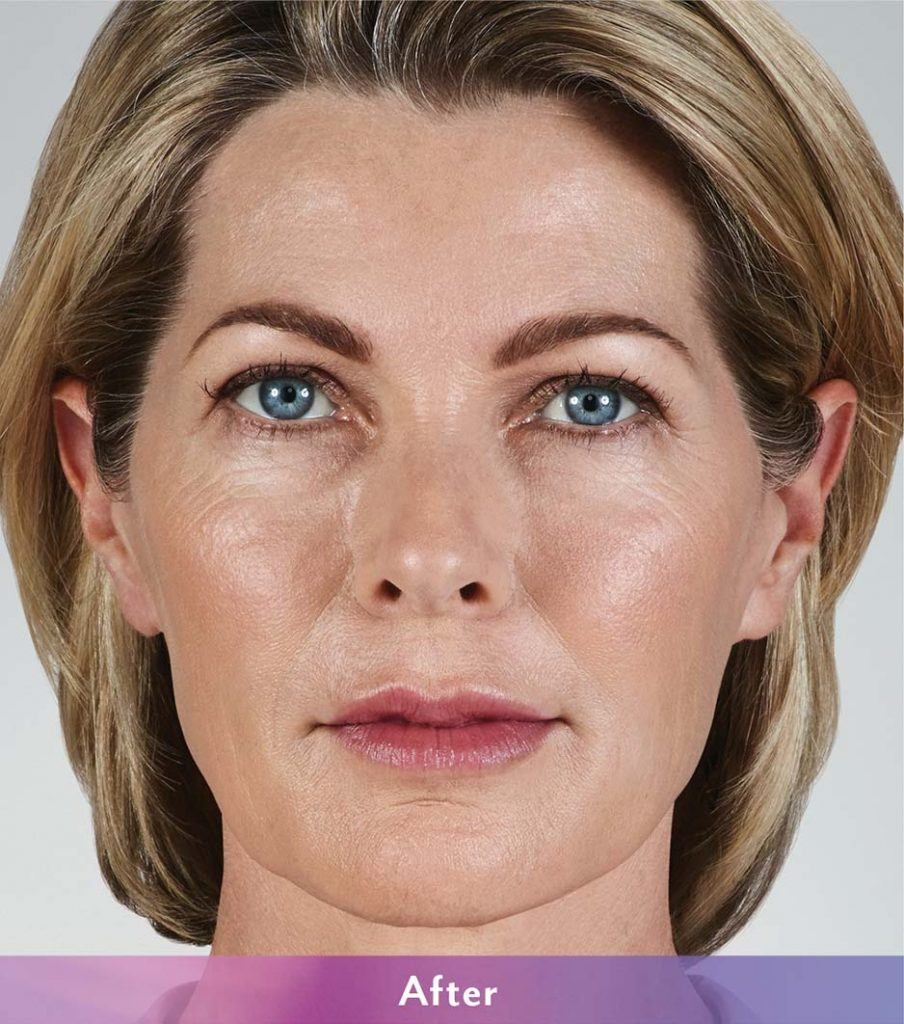 What Are Dermal Fillers?
Dermal fillers are injectable products that add volume beneath the skin to smooth lines and sculpt facial contours. They counteract the effects of aging by replacing volume that is lost over time through muscle, fat, and bone loss. A skilled injector can use them to enhance the size and shape of facial features such as the lips, cheeks, nose, and chin.
Benefits of Dermal Fillers
One of the primary advantages of fillers is that they provide alternatives to surgery that take years off and don't require downtime. Other benefits include:
Smoothing fine lines and wrinkles
Restoring volume and fullness to areas such as the cheeks and chin
Plumping up and defining the lips
Reducing signs of aging on the hands
Our experienced, highly trained nurse injector, Ashley Smith, uses her knowledge of various fillers to help patients get the outcomes they want. We offer a wide range of fillers because some products work better for certain patients and certain indications.
Can I combine BOTOX With Fillers?
Patients often combine filler injections with BOTOX® Cosmetic to create comprehensive results. This is often referred to as a "liquid facelift."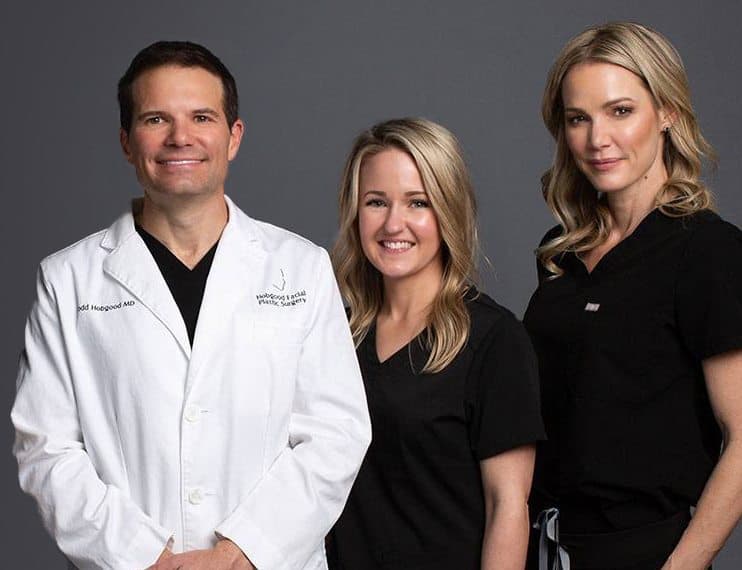 Our Nonsurgical Experts
Dr. Hobgood's aesthetic team creates customized treatment plans tailored to the cosmetic needs of each patient. Ashley Smith is a registered nurse injector who specializes in BOTOX® and filler injections, while licensed esthetician Brooke Scatchard is a certified laser technician.
Meet Our Team
Our Menu of Fillers
Filler injections are among the most popular cosmetic treatments performed worldwide. Fillers are more specialized than ever before, formulated to address specific areas of the face to produce more attractive and natural-looking results. Even as the fillers become more advanced, it still requires a skilled injector to ensure women and men get the desired outcomes. We offer fillers from the JUVÉDERM and Restylane family of products, along with RADIESSE®, for patients from Phoenix, Chandler, Mesa, Tempe, and other nearby cities.
Both Restylane and JUVÉDERM are hyaluronic acid-based fillers. Hyaluronic acid (HA) is a substance that occurs naturally in the body, meaning patients don't need allergy testing before injections. HA is ideal for use in fillers because it attracts and absorbs water, boosting and hydrating the skin.
RADIESSE uses calcium-based microspheres suspended in a gel carrier to soften and smooth wrinkles. These microspheres dissolve over time, after providing a scaffold around which your body builds new collagen. Virtually all fillers we use are pre-mixed with lidocaine, a numbing agent that makes treatments more comfortable.
Restylane products include:
Restylane: This is an excellent product for the under-eye area (also known as the "tear trough") to help improve the appearance of dark circles and hollows.
Lyft: More robust than original Restylane, Lyft addresses age-related volume loss in the mid-face area, especially the cheeks. Lyft can also boost nasolabial folds and other moderate to severe facial folds. Results last up to 12 months.
Silk: This smooth, delicate gel filler enhances lips and smooths lines around the mouth. It's injected with an ultrafine needle to ensure precise treatments. Results last between 6 – 9 months.
Refyne™: This "next generation" filler softens nasolabial folds and marionette lines—often called "laugh lines"—to restore a more youthful appearance that still looks natural. Approved by the FDA in 2016, Refyne results can last up to 12 months.
Defyne™: Deeper lines require a filler that's specifically created to address these concerns. Defyne works without limiting your range of facial emotions. Results last up to 12 months.
JUVÉDERM products include:
JUVÉDERM XC: This smooth gel is used to effectively restore volume and smooth facial wrinkles and folds. Ultra XC can be used to add volume to lips, including when your lips have thinned with age. Results last 6 to 9 months
VOLUMA® XC: Approved by the FDA to restore age-related volume loss in the cheeks. It's injected deeper than most other fillers and produces results that can last up to 2 years.
VOLLURE™ XC: The most recent addition to the JUVÉDERM family. VOLLURE creates a smoother appearance by softening moderate to severe wrinkles, including "parentheses" around the mouth. Results can last up to 18 months.
VOLBELLA® XC: Specifically formulated to enhance lip volume, VOLBELLA also helps smooth the fine lines around the mouth. The results can last up to a year.
Your Dermal Filler Treatment
Treatments with fillers are very similar regardless of the product used. We apply an antiseptic solution in the treatment area and mark specific injection locations. The procedure can last up to an hour but may be shorter depending on the number of injections needed. Mild discomfort, swelling, and redness at the injection site, and possibly temporary bruising are normal side effects following filler injections. We recommend using a cold compress afterward to minimize swelling and redness.
Dermal Filler Recovery
One of the perks of dermal fillers is that it is a quick, minimally invasive procedure with immediate results. Most patients return to ordinary, non-strenuous activities right away. You are likely to experience redness and swelling at your injection sites, but this should go away within a day or two. Cool compresses can help. Some people also experience bruising, but we can give you tips on how to minimize this.
You should avoid rubbing or massaging the treatment areas for the first few days. It is also a good idea to skip strenuous exercise, extensive heat or sun exposure, alcohol, and certain skincare products for the first 24 hours.
Common Questions
Are dermal fillers better than BOTOX?
Dermal fillers are not better or worse than BOTOX because they are different products used for different purposes. Fillers add volume to smooth lines and enhance contours, whereas BOTOX relaxes tiny muscles to smooth expression lines. Both are very safe, popular, and effective, and we often use BOTOX and fillers together for complete facial rejuvenation.
What is the best filler for lip injections?
There are several fillers designed specifically for lip injections, including Restylane Silk, Restylane Kysse, and JUVÉDERM VOLBELLA. These feature smaller molecules and a thinner consistency for natural-looking results in the delicate lip area.
How long do fillers last?
Fillers can last between 6 months and 2 years or more, depending on the type of filler and the treatment area. Patients who are consistent with touch-up treatments can extend the longevity of their results.
Are fillers bad for your face?
No, fillers are not bad for your face. Hyaluronic acid is a substance that occurs naturally in the body, thus is biocompatible. There is almost no risk of allergic reaction, and the body harmlessly breaks it down and eliminates it over time.
Is JUVÉDERM better than other dermal fillers?
JUVÉDERM, Restylane, and RADIESSE are among the most popular brands of fillers due to their strong records of safety and effectiveness. However, there are many quality filler products available, and each provider has his or her favorites.
Ready for Fillers?
Get started by requesting a consultation using the online form to discuss which fillers and lip injections will work for you. If you're in the Chandler, Tempe, or Phoenix, AZ, area, you can also call us at our Scottsdale plastic surgery office at (480) 418-6415 to schedule an appointment.
A Reputation Built on Results
I wish I could put ten stars by this review.!!! I would HIGHLY recommend Dr. Hobgood. Him and his staff...
the process was very easy and pleasant. everyone who worked there was polite and very helpful, and Dr.Hobgood...
Dr Hobgood deserves more than 5 stars! He takes the time to make sure his patients are comfortable and...
I got a rhinoplasty from Dr. Hobgood in March 2022. I highly recommend Dr. Hobgood and his entire team....