Rhinoplasty
Dr. Hobgood offers consultations for both men and women interested in balancing their facial esthetics with rhinoplasty (nose job) surgery. At his Scottsdale practice serving the Phoenix, AZ, area, the double board-certified facial plastic surgery specialist has helped patients from around the globe. Both national and international patients choose Dr. Hobgood and his team to help them meet their goals. Dr. Hobgood has performed over 3,800 rhinoplasty procedures including more than 1,000 complicated revision nose surgeries.
Keep in mind that each patient is unique and your results may vary.
Am I a Good Candidate for Rhinoplasty?
One of the most wonderful aspects of rhinoplasty is that nearly anyone can have it. However, there are a few things that may make you a better candidate for this procedure. If you don't smoke or use nicotine products and are in good physical health, you are likely a good candidate. We want to ensure that you have no underlying health conditions that may interfere with your surgery or recovery. If you believe that there may be, it's important to share them with Dr. Hobgood during your consultation.
If you have a positive outlook about what rhinoplasty can do for you and you have realistic goals in mind, then this surgery may be a great option for you. We stress the importance of realistic goals and understanding that rhinoplasty changes the aesthetic appearance of your entire face, not just your nose. Even if you know for sure that you want rhinoplasty, you may still be initially unsure of the specific changes you want to be made to your nose. Dr. Hobgood will work with you and share his extensive experience to help you plan your results.
What Can Rhinoplasty Achieve?
Rhinoplasty can correct a wide range of concerns, including:
Lumps, humps, or depressions on the bridge of the nose
Large, drooping, or bulbous nasal tip
Enlarged or overly wide nostrils
A nose that is out of balance with other facial features
Some people need revision rhinoplasty if they are experiencing complications or unsatisfactory results from a previous nose surgery.

How Much Does a Nose Job (Rhinoplasty) Cost in Arizona?
Rhinoplasty typically ranges from $9,000 to $12,000 in the Tempe and Chandler, AZ, area, including anesthesia and the operating room facility, for uncomplicated cases. Although rhinoplasty is separate and distinct from any surgical procedure to improve breathing, functional rhinoplasty may cost slightly less based on the patient's individual conditions.
Your Rhinoplasty Consultation
YOU are the key to OUR success! During your consultation, Dr. Hobgood will carefully explain the full scope of your surgery and recovery. He begins with a thorough discussion of the nature of rhinoplasty surgery. Unlike most other plastic surgery procedures affecting soft tissue, this surgery involves reshaping or removing bone and cartilage. That presents significant challenges for both the patient as well as the surgeon. The anatomy of the nose, an assessment of your breathing, and finally recommendations for the most natural and beautiful version of your nose is detailed as our goal.
Which Is Better, Open or Closed Rhinoplasty?
The best type of rhinoplasty depends on what the procedure calls for. Dr. Hobgood may use either of the following options:
Open rhinoplasty involves an incision along the thin strip of skin between the nostrils called the columella. This technique provides open access to the surgical area and is best for complex procedures.
Closed rhinoplasty is performed through incisions inside the nose. This technique leaves no external scar and is best for simpler procedures.
Both approaches have their own distinct advantages and disadvantages. Dr. Hobgood reviews which option is best for you during your consultation.
What Is Involved in Rhinoplasty Surgery?
Your surgery can vary in length depending on how extensive the changes to your nose are. Dr. Hobgood performs rhinoplasty using either general anesthesia or intravenous sedation. Once he has made the incisions, he reshapes cartilage and bone adding a variety of cartilage or soft tissue grafts to the nose if needed. The goal is to provide the structure that is most likely to allow the soft tissue and skin of the nose to settle with the most natural and un-operated appearance.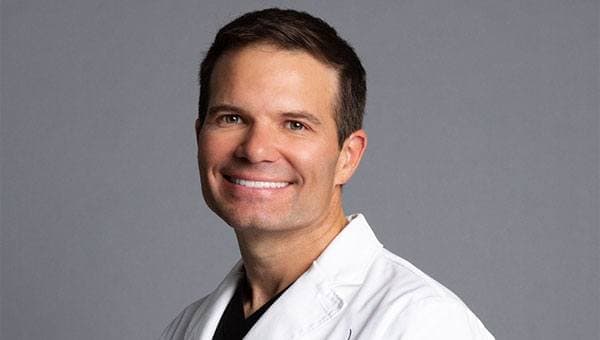 Dr. Todd Hobgood
Dr. Hobgood combines his down-to-earth, personable demeanor with an artistic eye and technical expertise honed through thousands of surgeries, including more than 1,000 facelifts. He's recognized nationally for his leadership and has been honored by the American Academy of Facial Plastic and Reconstructive Surgery for his ongoing commitment to quality.
Meet Dr. Hobgood
How Long Is Recovery From Rhinoplasty?
In general, you can expect to get back to work or school within about 10 days. However, you'll need to take additional time off from exercise and other strenuous activities. If you do any heavy lifting in your job, it's recommended that you take between 4 and 6 weeks off to allow for additional healing.
How Long Does Swelling Last After Rhinoplasty?
Swelling is likely to be the first thing you notice once you return home from surgery. Dr. Hobgood advises patients to keep their heads elevated as much as possible for the first several days after surgery in order to avoid unnecessary swelling. This initial swelling is likely to subside within a few weeks.
Can Swelling Fluctuate After Rhinoplasty?
Gradual changes can take place for at least one year after nasal surgery. Swelling can flare up, but it's not typically something to worry about. Dr. Hobgood will provide you with more specific instructions that pertain to your exact situation. We may ask you to follow up with us on a periodic basis throughout the first year.
A Reputation Built on Results
Dr. Hobgood is a very skilled surgeon. He is very good at what he does. He has a wonderful bedside manor,...
Dr. Hobgood is seriously a fantastic surgeon. Not only is his work perfect, but he puts your mind at...
Really Dr. Hobgood does not need any reviews! His reputation alone speaks volumes! I took my daughter...
Dr. Hobgood is amazing! I had a rhinoplasty with him and love my results! He's very talented at what...
How Long After Rhinoplasty Will I See the Final Results?
Patients often look fantastic in under a month; although their final results are probably achieved in 1 to 2 years. Many of the greatest rhinoplasty surgeons in the world state that the true healing period for this surgery is up to 10 years.
"Wonderful doctor and staff. He is very kind and puts your mind at ease. Knew what I wanted and disliked before I even opened my mouth. A very skillful doctor. Surgery went better than expected and one month post everything is going well."
NewNose4Me17 rhinoplasty patient on RealSelf.com
Common Questions
How old do I have to be to have rhinoplasty?
Rhinoplasty is a very popular procedure for teens, but it is very important that patients be both physically and emotionally mature enough for the surgery. In order to create predictable results, Dr. Hobgood must be confident that the individual is finished growing. Girls tend to reach this stage by age 15 to 17, whereas boys tend to need a little longer, so generally males should be at least 17 or 18.
How long does rhinoplasty surgery take?
A simple, straightforward rhinoplasty that requires small incisions and no revisions can take as little as 2 hours. However, if you're undergoing a secondary, or revision rhinoplasty, the procedure can last a bit longer. It's unlikely that the surgery will last longer than 2 ½ hours.
Are there risks involved with rhinoplasty?
There aren't many significant risks with rhinoplasty surgery, although there are some things to consider. For instance, anesthesia issues could occur during the procedure, though these are relatively rare. Additional risks include some bleeding, an infection, and issues during the healing phase. For a while, you may experience some changes in skin sensation, as well as skin discoloration. There's also the slight risk that you won't like how the changes have made your nose look. It's up to you to weigh these risks against the positives and make your decision.
Ready to Talk With Dr. Hobgood?
Learn more about Dr. Hobgood and the rhinoplasty options available for people from Tempe, Mesa, Chandler, and beyond. Discover how you can improve your profile when you request a consultation using our simple online form. You can also call our office at (480) 418-6415 to schedule an appointment.