Dye-VL Intense Pulsed Light
Avoiding the sun in the Scottsdale-Phoenix area is virtually impossible, and the exposure can take its toll on our skin. The versatile Dye-VL intense pulsed light (IPL) therapy safely addresses redness, spider veins, vascular lesions, rosacea, and skin discoloration caused by sun damage.
How Does the Dye-VL Work?
The advanced technology used by the Dye-VL is a powerful form of intense pulsed light (IPL). It selectively targets skin discoloration in pigmented and vascular lesions with light energy that penetrates below the skin without damaging its surface. When treating pigmented lesions, the melanin absorbs the energy, breaking down the pigment. For vascular lesions, hemoglobin absorbs the Dye-VL light, minimizing the appearance of blood vessels.
What sets the Dye-VL device apart from other IPL treatments is advanced fluorescence technology, which converts short wavelength light into part of the usable spectrum. This produces a uniform pulse of light and more predictable treatments to create the desired results.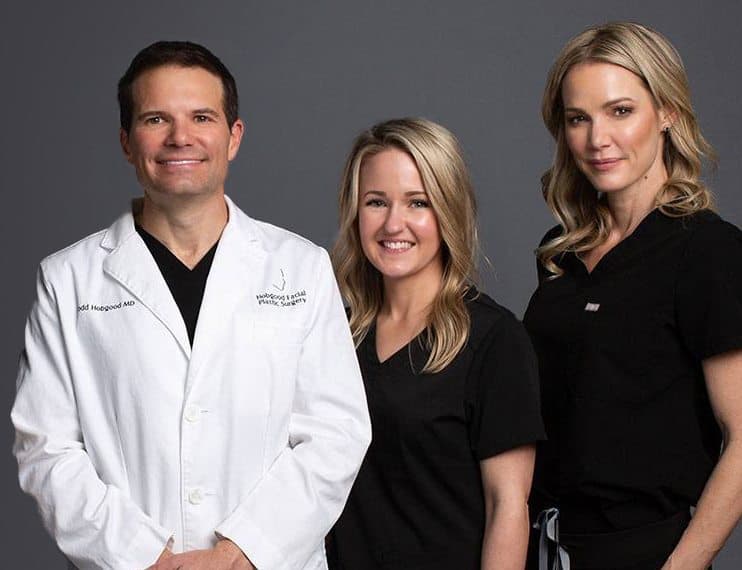 Our Nonsurgical Experts
Dr. Hobgood's aesthetic team creates customized treatment plans tailored to the cosmetic needs of each patient. Ashley Smith is a registered nurse injector who specializes in BOTOX® and filler injections, while licensed esthetician Brooke Scatchard is a certified laser technician.
Meet Our Team
What Does Dye-VL Treat?
Because of its versatility as part of Alma Laser's HarmonyXL Pro platform, we can combine Dye-VL treatments with erbium laser technology and tailor customized treatments to treat skin discoloration due to sun damage as well as:
Freckles
Age spots
Irregular pigmentation
Rosacea
Facial spider veins
Hemangioma
Port wine stains
The Dye-VL device can treat these skin conditions on the face and most areas of the body, including the neck, décolletage, hands, and back.
What Happens During an IPL Treatment?
Treatment sessions usually take about 30 minutes, with the specific time depending on the size of the area targeted. A Dye-VL treatment is virtually painless, and no topical anesthetic is needed. After fitting you with goggles to protect your eyes, the provider applies a cool gel to the skin and presses the Dye-VL handpiece against the treatment area. It delivers pulses of light and is gently moved across the skin. No downtime is needed, and patients can return to work or their other normal daily activities immediately after the appointment.
You may notice the treatment area gets darker before the spots begin fading, resulting in clearer, more even skin. Most patients need 3 to 5 treatment sessions to get the desired outcomes.
Ready to Get Started?
Bringing back your beautiful skin is easier than you think. Request a consultation with Dr. Todd Hobgood using our online form or call the office at (480) 418-6415 to set up your appointment today.
A Reputation Built on Results
Dr. Hobgood and his staff are just exceptional! I could not have chosen a more experienced and skilled...
I would highly recommend Dr. Hobgood, his work is perfection. I had an eye lift, my eyes are sooo much...
Dr. Hobgood and his team are absolutely amazing!! I get my Botox done with Ashley, who is so sweet and...
Dr Hobgood and his staff are amazing !!! Had Facelift and revision rhinoplasty one week ago. Very happy...