Fractional Laser Skin Resurfacing
The Scottsdale–Phoenix area, with its year-round sunshine and dry climate, can be unforgiving to your skin and can contribute to premature aging. Even with good skin care, smooth, youthful skin is gradually marred by fine lines, wrinkles, enlarged pores, discoloration, and other minor flaws. Fractional laser skin resurfacing with either our Harmony XL Pro erbium (Nd:YAG) or CO2 laser can help remedy these effects in a safe, non-invasive procedure. In addition to addressing age-related imperfections and sun damage, fractional laser resurfacing encourages the production of collagen, which firms and tightens skin. For these reasons and more, fractional laser skin resurfacing is fast becoming among our most popular anti-aging procedures.
Fractionated CO2 Laser (no anesthesia) Before & After Photos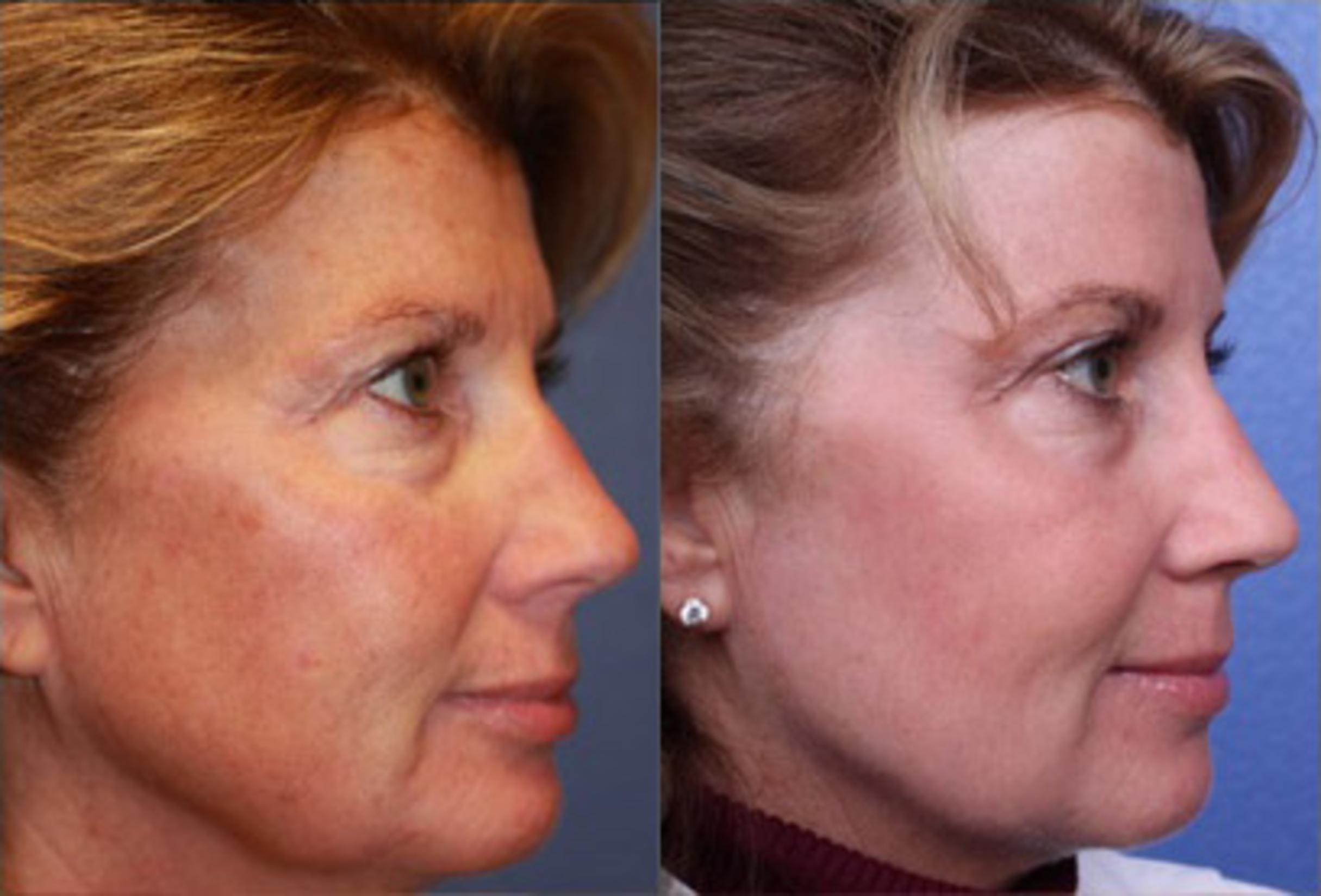 Before & After

Before & After
Keep in mind that each patient is unique and your results may vary.
Is Laser Skin Resurfacing Right for You?
Ideal candidates for laser skin resurfacing with our fractional devices are adult men and women who are bothered by signs of aging and sun damage, including:
Fine lines and wrinkles
Discoloration
Loss of elasticity
Certain types of scars
Laser skin resurfacing isn't effective for treating wrinkles that are caused by muscle movement, such as crow's feet. If you'd like to treat these wrinkles, BOTOX® Cosmetic may be a better option. If you're looking for a skin tightening treatment with minimal downtime, consider PiXel8-RF microneedling. For those with unwanted pigmented or vascular lesions, treatment with Dye-VL intense pulsed light is most effective. 
People who have certain immune or skin disorders may not be good candidates for laser resurfacing. During your consultation, Dr. Hobgood reviews your medical history with you and determines whether the procedure is a good match for you.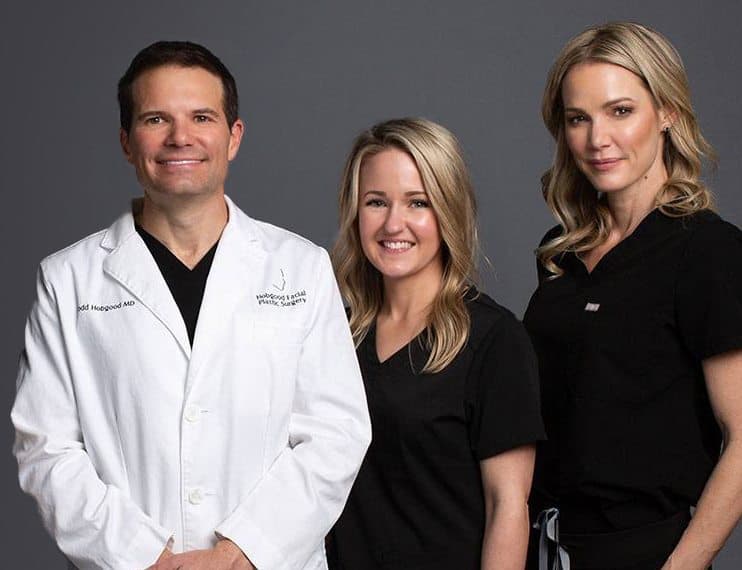 Our Nonsurgical Experts
Dr. Hobgood's aesthetic team creates customized treatment plans tailored to the cosmetic needs of each patient. Ashley Smith is a registered nurse injector who specializes in BOTOX® and filler injections, while licensed esthetician Brooke Scatchard is a certified laser technician.
Meet Our Team
How Much Does Laser Skin Resurfacing Cost?
The price for a laser resurfacing treatment generally ranges from $3,000 to $5,000, but varies with the size and number of areas treated.
How Does Laser Skin Resurfacing Work?
Fractional laser resurfacing uses high-energy pulses of erbium or CO2 laser energy to remove the outer layer of aging, damaged skin cells so that it is replaced with new, youthful-looking skin. The laser energy is absorbed mainly by water and pigment in the skin and then converted to heat. This heat preferentially destroys old skin cells, leaving behind a newer layer to multiply and replace them. The benefits of laser skin resurfacing include:
Non-invasive procedure with no incisions
Low risk of scarring or infection
Nearly immediate reduction in fine lines and some other skin concerns
Can be completed in a short, in-office visit
In addition to removing older skin cells, fractional laser resurfacing encourages the production of collagen. Collagen, the protein that gives young skin its firmness and smoothness, is made by cells in response to stress. Fractional laser resurfacing creates just enough stress on the skin to encourage collagen production without causing scarring or significant damage. The safety and precision of fractional laser resurfacing make it a popular way to correct signs of aging. During the procedure, only small "pinpoint" areas of skin are exposed to laser energy, expediting the healing process and incurring relatively little risk.
A Reputation Built on Results
Dr. Hobgood is a very skilled surgeon. He is very good at what he does. He has a wonderful bedside manor,...
Dr. Hobgood is seriously a fantastic surgeon. Not only is his work perfect, but he puts your mind at...
Really Dr. Hobgood does not need any reviews! His reputation alone speaks volumes! I took my daughter...
Dr. Hobgood is amazing! I had a rhinoplasty with him and love my results! He's very talented at what...
Erbium vs. CO2 Laser Resurfacing
While both types of fractional laser treatments treat similar concerns, there are significant differences between them (see table). Keep in mind that experiences vary between individuals and the strength of the treatment. Dr. Hobgood will help you choose the one best suited to your skin, cosmetic concerns, and available downtime. For patients who want a quick "lunchtime lift" without downtime, Dr. Hobgood may recommend the Harmony XL Pro ClearLift treatment. 
Fractional Laser Treatment Comparison
Fractional Laser
Best for
Discomfort Level
Recovery
Number of Treatments
Erbium
Darker skin
Superficial concerns
Gradual improvement
Mild to moderate with topical anesthetic
Mild redness and swelling for 3 to 4 days
1 to 4 treatments
CO2
Lighter skin
Deeper concerns
Dramatic improvement
Skin tightening
Moderate with local and topical anesthetic (sedative if desired)
Redness, swelling, oozing, crusting, peeling for 3 to 10 days
Often a single treatment
Your Laser Skin Resurfacing Experience
Dr. Hobgood begins by cleansing your face and applying a topical numbing cream. If you are having a CO2 treatment, he administers an injection of local pain medication to keep you comfortable throughout the procedure. Some people choose to take pain pills or sedatives in order to reduce anxiety before their procedures, but this certainly isn't necessary for everyone.
Once the skin is numb and you are relaxed, Dr. Hobgood uses a laser handpiece to apply energy to the skin, possibly in several passes. Some patients say the sensation of a fractional laser resurfacing treatment is similar to being snapped with a rubber band. However, others describe it as mild burning or stinging. The reported level of discomfort is highly subjective, although the procedure is typically not painful.
Once your procedure is over, Dr. Hobgood covers your skin with ointment to reduce inflammation. Some areas may need a light dressing.
Common Questions
How many laser resurfacing treatments will I need?
Many people achieve the desired level of improvement after undergoing a single treatment. Some individuals may want to schedule a series of treatments, scheduled several weeks or months apart, for more significant results. Still others make laser resurfacing a regularly scheduled part of their beauty regimen and may come in annually or semi-annually for maintenance. Dr. Hobgood will discuss your options with you in your consultation.
What are the risks associated with fractional laser resurfacing?
As with any medical procedure, there are a few risks associated with laser skin resurfacing. Most people experience common complications such as redness, itching, or burning sensations after the procedures. More rarely, some people may see slight changes in their skin pigment. These changes typically go away with time. There is a slight chance of scarring or infection, but these are extremely uncommon with appropriate aftercare. People with dark skin are more likely to experience these side effects. During your consultation, Dr. Hobgood helps you understand what side effects you can expect.
How long does it take to recover from laser skin resurfacing?
Recovery varies after fractional laser skin resurfacing depending on the laser used and the aggressiveness of the treatment. In general, recovery progresses as follows:
CO2 laser: After the procedure, the treatment area may be bandaged. If Dr. Hobgood bandages the area, it will be replaced in a few days. A week later, an ointment will be applied to the treatment area to prevent the unlikely formation of scarring. Most people return to work within 3 to 10 days depending on the condition of their skin before the procedure and how aggressively it is treated.
Erbium laser: Immediately after treatment, the skin is typically pink and tender similar to that of a sunburn. Over the next few days, expect some itchiness and sloughing of the skin, and redness will begin to fade.
Dr. Hobgood provides skin care instructions to take home after your treatment. After your skin heals and new healthier skin is revealed, avoid prolonged sun exposure for up to 3 months to avoid sun damage.
Ready to Get Started?
Bringing back your beautiful skin is easier than you think. Request a consultation with Dr. Todd Hobgood using our online form or call the office at (480) 418-6415 to set up your appointment today.