LATISSE®
Latisse (bimatoprost ophthamalic solution) is the only lash stimulating product on the market that is FDA approved. This medication is scientifically proven to increase the growth of thicker, longer, and darker eyelashes, and it's an excellent alternative to messy, unnatural-looking eyelash extensions. With a prescription, women and men from Tempe, Chandler, and Phoenix can purchase Latisse at Hobgood Facial Plastic Surgery in Scottsdale.
How Does Latisse Work?
Studies have shown that Latisse results in darker, thicker, and longer eyelashes, but the exact process is not well understood. It is typical for eyelashes to sprout, grow, and then fall out. Latisse, however, seems to extend the growth phase of eyelashes as well as the number of hairs that sprout.
Latisse is applied on the upper lash line every night using a sterile applicator. The medication then spreads to the lower lash line through blinking. Latisse must not be applied in the eye or onto the lower lid, however, as it can cause dry eyes and darkening of the eyelid skin.
Results with Latisse
Most patients see results after two months of nightly use. By three or four months, it is usually recommended that you cut back treatment to just once every two days.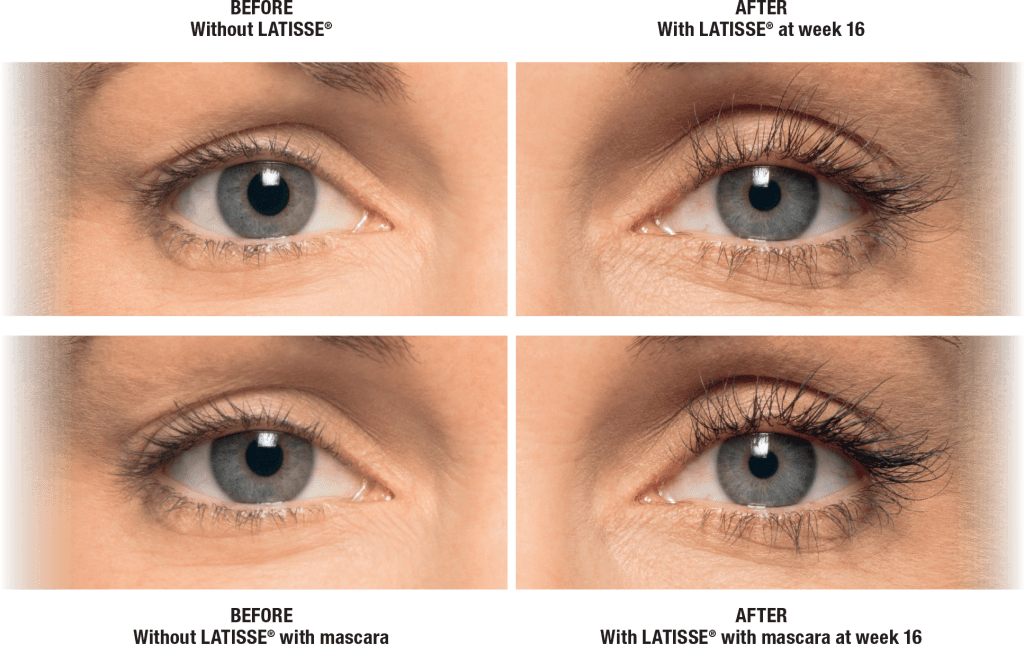 Individual results may vary.
If you discontinue use of Latisse, your eyelashes will slowly return to their former appearance and thickness.
While patient experiences vary, after 16 weeks most notice their eyelashes are:
Thicker
Fuller
Darker
Longer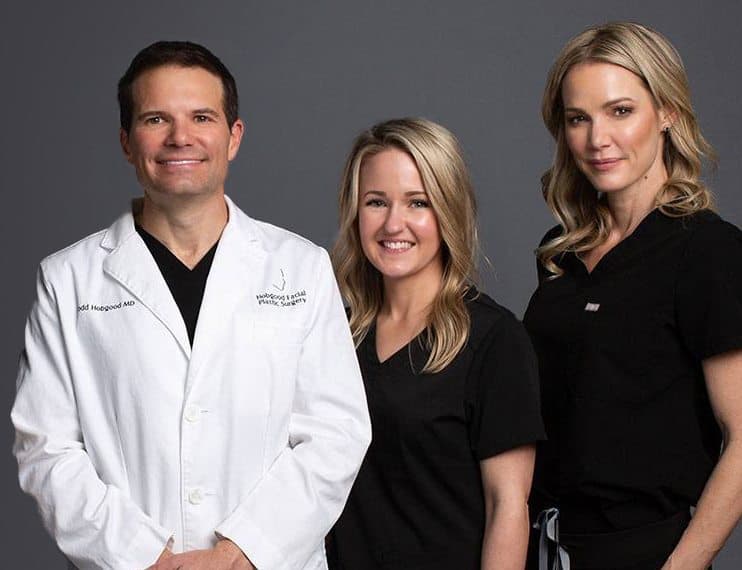 Our Nonsurgical Experts
Dr. Hobgood's aesthetic team creates customized treatment plans tailored to the cosmetic needs of each patient. Ashley Smith is a registered nurse injector who specializes in BOTOX® and filler injections, while licensed esthetician Brooke Scatchard is a certified laser technician.
Meet Our Team
How much does Latisse cost?
The cost of Latisse is usually around $120 per month, but there are volume discounts available.
Are You a Candidate for Latisse?
While Latisse eyelash enhancer is safe for most people, you may not be a candidate if you have certain eye problems, including conjunctivitis, skin infections of the upper eyelids, serious allergies or macular edema. Pregnant and nursing women should not use Latisse.
The active ingredient in Latisse treatment reduces intraocular pressure, which means you should talk with your eye doctor if you take medication for glaucoma or ocular hypertension, so your eye pressure can be monitored.
Latisse Side Effects
Latisse treatment comes with few unintended side effects, and most patients do not have issues. Some patients, however, experience dry eyes and darkening of their eyelid skin. The most common side effects are eye redness and itchiness. It is important to keep the Lastisse out of your eyes.
While it was not reported as ever occurring during the studies prior to FDA approval, Latisse maker Allergan warns that permanent brown pigmentation of the iris is a potential complication of Latisse. Some people may find permanent eye color change to be a very serious drawback to Latisse treatment.
FAQ
How soon will I see results?
Latisse results are gradual, but most people see a significant improvement in 8 to 12 weeks.
How long do results from Latisse last?
The results will only last as long as you continue using Latisse.
Is Latisse only for women?
No. Both men and women with sparse, insufficient, or short eyelashes can benefit from Latisse treatments.
A Reputation Built on Results
AMAZING Doctor and staff! Dr. Hobgood is so personable and did everything to make sure I understood...
I love this office and dr. Hobgood and am so happy with my whole experience. I researched doctors for...
Having wanted a rhinoplasty for over 20 years, meeting Dr. Hobgood was an absolute blessing. I had previously...
Best in the world! I walked into my consultation very nervous but walked out confident and everything...