Although we'll never really have the crisp days and falling leaves that much of the rest of the country associates with autumn, here in Arizona we get to enjoy the seasons change in our own way. As a plastic surgeon in Scottsdale, it always interests me to observe how my patients' routines change depending on the time of year. With a change in routine comes a change in scheduling, too. Surgical procedures, especially facelift, tend to see a slight spike in popularity as autumn approaches, and I have 3 ideas why:
1. A Smooth Routine
If you've got kids at home, the autumn months are when everyone adopts a fairly normal routine. Summer's unpredictability is gone, and the frenetic pace of the beginning of the school year has given way to a more regular daily schedule. Take advantage of this calm before the holiday storm and undergo your plastic surgery now. You'll be able to rest at home while your family is at work or school, and the planning process is much easier without the possibility of last-minute events cropping up.
2. Break Time, Recovery Time
Most people get automatic time off over the holidays. Depending on your employer, you may have off Black Friday in addition to Thanksgiving, which gives you a solid chunk of time to yourself. Taking advantage of your days off is smart if your paid time off is limited or if your job is very demanding. Undergoing your facelift around the same time as a holiday break means you'll only need to dip into a couple of days of your PTO rather than a full week or more. This time off can also be helpful for discretion. If you'd rather not share your facelift with your co-workers, you can make use of your automatic time off to help keep your surgery private.
3. Photo-Ready for the Holidays
If you're planning on spending your winter holidays with family or friends, you know that there will be plenty of pictures in the mix. Make this the first year you stop shying away from the camera! If you undergo your facelift in the fall, your healing process will be complete by winter, allowing you to show off your results and look amazing from every angle. Whether you want to wow at that special holiday party or simply never click "untag" again, a facelift can help.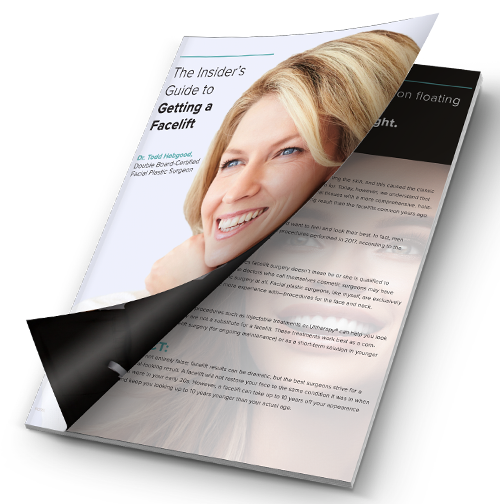 A Must-Have for Facelift Patients
"The Insider's Guide to Getting a Facelift" is the definitive e-book that distinguishes facts from myths and describes the journey of a facelift patient with engaging content and easy-to-understand illustrations.
Double board-certified facial plastic surgeon Dr. Todd Hobgood is one of the leading facelift experts in the U.S., and he's drawn on years of experience to create this Insider's Guide.
Dr. Hobgood's Insider's Guide describes:
Why modern facelift techniques create results that look natural
Who is a good candidate for a facelift
What the difference is between a full and a mini facelift
When you can expect to see friends socially after a facelift
Submit the form below to receive our free eGuide as part of a short series of emails on Facelift.
Fields marked * are required.
Still on the fence about facelift? The best way to decide whether it's right for you is to see some results for yourself. I invite you to browse my gallery of before-and-after photos. When you're ready, contact my office to set up your first visit. At your consultation, we'll discuss scheduling as well as the specific results you can expect from your facelift.