You've waited years to get that facelift (or brow lift, or eyelid surgery), so the last thing you want to hear when you call to schedule your surgery is "The doctor's next surgery date is in [  ] months." It can be tempting to hang up and schedule with another surgeon, one who has openings next week. But there's a reason the best facial plastic surgeons in Scottsdale can't fit you in right away, and I assure you, it's worthwhile to be patient. I hope this post helps you understand why exceptional care and results are worth waiting for and how you can make productive use of the time leading up to your procedure.  
Why Do I Have To Wait?
To better understand why you may have to wait many months to have your procedure with a respected facial plastic surgeon, it might help to think about a more familiar situation. For example, when you want to eat at the best restaurant in town, you'll usually need to make a reservation well in advance. That's because the restaurant has earned a reputation for excellence, and many people want to eat there. And the best restaurants don't rush you through your meal so that they can seat another party quickly. They take the time to create a memorable dining experience that exceeds your expectations. 
Similarly, the best facial plastic surgeons have earned the trust of their community, and their services are in demand. Yet, they still take their time with each patient and deliver personalized care and exceptional results. All worthwhile things take time.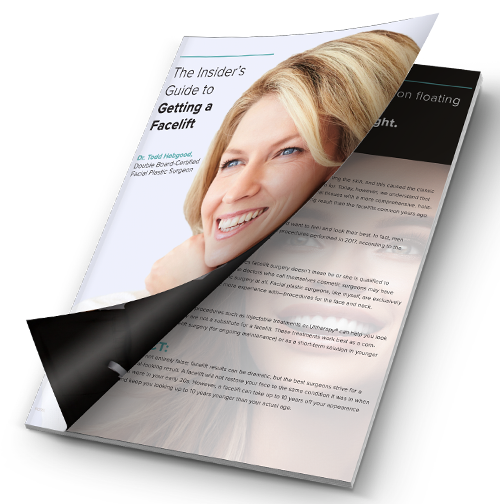 A Must-Have for Facelift Patients
"The Insider's Guide to Getting a Facelift" is the definitive e-book that distinguishes facts from myths and describes the journey of a facelift patient with engaging content and easy-to-understand illustrations.
Double board-certified facial plastic surgeon Dr. Todd Hobgood is one of the leading facelift experts in the U.S., and he's drawn on years of experience to create this Insider's Guide.
Dr. Hobgood's Insider's Guide describes:
Why modern facelift techniques create results that look natural
Who is a good candidate for a facelift
What the difference is between a full and a mini facelift
When you can expect to see friends socially after a facelift
Submit the form below to receive our free eGuide as part of a short series of emails on Facelift.
Fields marked * are required.
Qualifications Worth Waiting For
As with any occupation, different facial plastic surgeons can vary widely in their level of experience, education, and other credentials and characteristics. Since your face is you, and it's always on display, you shouldn't trust it to just any surgeon. When I talk to my patients about selecting the best facial plastic surgeon, I talk about these "4 + 1" guidelines: 
Training

 – You should seek expert training in esthetic facial plastic surgery only, and ideally, a surgeon who is fellowship-trained and certified by the American Board of Facial Plastic and Reconstructive Surgery.

 

Attention to detail

 – This is something you can infer from a surgeon's CV or 

web page

, but since it's more of a personality trait, you'll want to look for it in your consultation. I try to communicate to each patient that their case is the most important one I will ever do, because that is what I believe. 

 

Listening/communication

 – Ideally, during your consultation the surgeon listens intently and makes sure all your questions and concerns are addressed clearly. I personally call every patient the evening before surgery and the day of surgery, and someone from my team continues to communicate in the days and weeks following surgery. 

Volume of cases

 – This speaks to the surgeon's experience and the number of people who have entrusted him/her with their facial surgery. I am happy to share with potential patients that I have performed more than:

 

5,000 rhinoplasties

 

1,000 facelifts

 

3,800 eyelid and brow surgeries
The +1 is that special connection that you really want to make with your surgeon. In order to have the best possible experience, you should feel mutual respect and trust. Ideally, your surgeon should feel like a friend to you. 
What To Do While You Wait
When you've found the right surgeon—the one with the track record of safety and great results, the top-notch credentials, and the personality that meshes with yours—it's very likely you'll have to wait a bit for an opening in their surgery schedule. Try to look at that as a good thing, and then consider these productive things you can do while you wait: 
Improve your diet – Having to wait a few months presents an opportunity to focus on healthy eating, which will help your body feel better and heal quicker. Incorporate lots of leafy greens and colorful fruits and vegetables. Steer clear of processed foods and refined carbs like sweets, pasta, and white bread, and replace them with whole-grain options. Also, discontinue all supplements two weeks before and after surgery. 
Lose weight or get in better shape – You can only improve your recovery and results by eating right, exercising, and losing any extra weight you might be carrying. Use this time to become the best version of yourself, then your surgical results will be the icing on the cake! 
Quit smoking – This one isn't optional. You must quit smoking prior to surgery in order to reduce risk and improve healing. If you're still using nicotine products, now's the time to kick the habit. 
Focus on skin health – Your skin is your largest organ. Continue to make healthy choices relative to sun exposure and let our doctor-directed esthetician help you get your skin in great shape before your surgical procedure. Our Rohrer PiXel8-RF microneedling treatment is a great option for total skin rejuvenation, improving everything from wrinkles to acne and surgical scars, as well as the overall texture, smoothness, and firmness of your skin. Injectables like BOTOX and dermal fillers keep you looking great before and after surgery. 
Don't Wait To Get in Touch!
If you're considering facial plastic surgery in Scottsdale, AZ, please contact me online or call (480) 418-6415 to schedule your consultation. Yes, you'll have to wait a while for your surgery, but I promise it will be worth it!