As a Scottsdale facial plastic surgeon, I help many patients benefit from facial rejuvenation through either a mini or traditional facelift. All patients must remember, however, that even elective cosmetic procedures are still considered major surgeries. Because of this, you should prepare yourself to ask questions before your procedure. It is also important to carefully follow pre and post-op instructions to ensure safety and help you achieve your aesthetic goals.
Before Your Facelift
Don't smoke. We recommend that patients stop smoking a minimum of 4 to 6 weeks before surgery. Smoking inhibits blood flow to the skin, and good blood flow is necessary to prevent complications. Smoking will also slow down your recovery and may compromise your results.
Avoid alcohol. Do not drink 24 to 48 hours before your procedure. Alcohol can prohibit clotting, which can increase bleeding. This, in turn, can slow down the recovery process.
Limit salt intake. Salty foods can increase your fluid retention and cause worse swelling. Try to maintain a healthy diet before your procedure; you want to be in peak health leading up to your surgery. A healthier body recovers faster.
Communicate with your doctor. Let your doctor know what medications you take. It is also important to read your post-op instructions to make sure you understand all of the information. If there is something that needs clarification, do not hesitate to ask.
Stock up on supplies. Pick up anything you might need during your recovery. This can include healthy, low-sodium snacks, water bottles, ice packs, medications, etc. Your surgeon will give you a more comprehensive list of other items that can help you have an easier recovery.
Arrange for someone to help you around the house after surgery. Facelift surgery requires a support system to help you during recovery. You will need someone to drive you to and from surgery and also help with household tasks during the first days back at home. Doing it alone is not an option.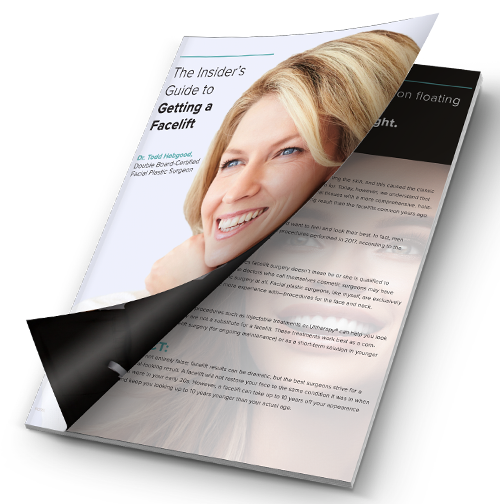 A Must-Have for Facelift Patients
"The Insider's Guide to Getting a Facelift" is the definitive e-book that distinguishes facts from myths and describes the journey of a facelift patient with engaging content and easy-to-understand illustrations.
Double board-certified facial plastic surgeon Dr. Todd Hobgood is one of the leading facelift experts in the U.S., and he's drawn on years of experience to create this Insider's Guide.
Dr. Hobgood's Insider's Guide describes:
Why modern facelift techniques create results that look natural
Who is a good candidate for a facelift
What the difference is between a full and a mini facelift
When you can expect to see friends socially after a facelift
Submit the form below to receive our free eGuide as part of a short series of emails on Facelift.
Fields marked * are required.
After Your Procedure
Rest! Getting plenty of sleep is essential during recovery because your body can dedicate more blood flow to the injured muscles and tissues. Sleep on your back with your head elevated—this will help with swelling. Sleeping on your side can irritate your incisions.
Avoid vigorous activity. Take it easy for the first few days after surgery. However, I also recommend that you get up and walk around soon after surgery to encourage good blood circulation which is essential during your recovery.
Take all prescribed medication. It is important to take all of your medications at the correct times. Try to follow all of your surgeon's instructions as closely as possible.
Avoid alcohol, smoking, saunas, and steam rooms. These can be dangerous during your recovery.
Have patience. Most people need at least 10 days before they can return to work. It is important to have realistic expectations and a positive outlook while you heal. It will take a while before you can see your final results, but your new, refreshed look will be well worth the wait.
View our photo gallery of real patient before-and-after photos to see your potential with a facelift.
For more information about the facelift procedure, request a consultation online or call our office at (480) 214-9955.