I often am asked questions about limited down-time facelift and necklift techniques. The bottom line is that qualified and experienced surgeons will recommend the least invasive lift that serves the goals of our patients. Sometimes this means that a relatively short recovery is possible. You certainly need to be seen and examined by a board certified physician to determine what types of procedures will suit your objectives.

Some of the commonly recommended procedures will include laser therapies, botox, dysport, xeomin, fillers, liposuction or lift techniques.

I have been underwhelmed with the thermal energy devices and have not seen results that I would be proud of. Thermage did not turn out to be a valuable tool in my practice. There are new technologies emerging, but none that are providing valuable results at this time, in my opinion.
Lastly, all qualified board certified surgeons will be aware of all of the lifting techniques available. Despite the compelling advertising, facelifting and necklifting has not changed significantly in the last 10 years.
Come visit us or simply email me anytime if you have more specific questions!

Sincerely,
Dr. Todd Hobgood, MD
Real. Natural. Results.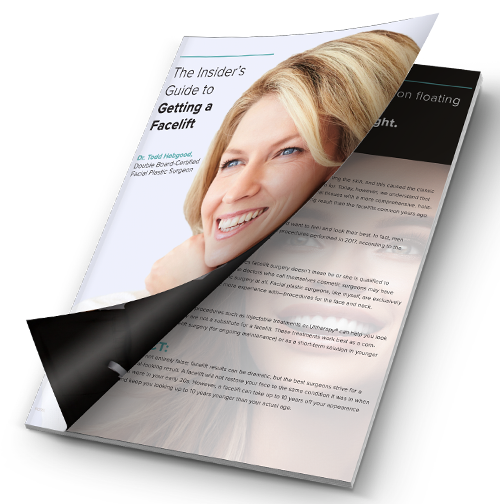 A Must-Have for Facelift Patients
"The Insider's Guide to Getting a Facelift" is the definitive e-book that distinguishes facts from myths and describes the journey of a facelift patient with engaging content and easy-to-understand illustrations.
Double board-certified facial plastic surgeon Dr. Todd Hobgood is one of the leading facelift experts in the U.S., and he's drawn on years of experience to create this Insider's Guide.
Dr. Hobgood's Insider's Guide describes:
Why modern facelift techniques create results that look natural
Who is a good candidate for a facelift
What the difference is between a full and a mini facelift
When you can expect to see friends socially after a facelift
Submit the form below to receive our free eGuide as part of a short series of emails on Facelift.
Fields marked * are required.