A facelift is a fantastic procedure designed to take years off you face. It makes your eyes brighter, smoothes your skin, and gives you better contouring around your cheeks and jaw. Your whole appearance is rejuvenated in just a few hours. Best of all, results are with you for life. Completing a facelift is like turning the clock back in time. You will always look younger than your stated age. To combat future age-related changes, our patients work with our skin care team at The Skin Spa at Hobgood Facial Plastic Surgery to maintain their results.
Take Care of Your Skin
This is something you should already be somewhat familiar with, but it becomes more important after having a facelift. Regular and diligent skincare is a key to maintaining healthy-looking and youthful skin. If you aren't already, start washing your face twice a day with a quality cleanser. You should also be using moisturizer and sunscreen on a daily basis. By cleaning and protecting your skin, you're already maintaining the results of your facelift for years to come. If you aren't sure what kind of products will be good for your skin, check with your surgeon or a qualified skincare specialist.
Take Care of Your Body
Your face is a reflection of how you're feeling on the inside as much as the outside. A healthy lifestyle keeps you looking and feeling great. Eating well-balanced meals and exercising regularly are fantastic ways to achieve this. Drinking lots of water helps keep your skin hydrated so that it looks bright and fresh, so have a water bottle handy and use it. Vitamins and plenty of rest are also great ideas for taking care of your body.
Start Immediately After Surgery (and Even Before Surgery!)
Don't wait to start taking care of yourself – start today! The sooner you start, the easier it will be to maintain your routines after surgery and the better you'll be at living a healthy lifestyle. You should also be checking with your surgeon about what you'll need to take care of yourself while you're in recovery from your facelift procedure. Planning ahead by stocking up on supplies and making any necessary arrangements will ease your stress levels and make your recovery that much easier.
Consider Boosting Your Facelift With Other Procedures
Over time, your face and skin will continue to age and the results of your facelift will become less apparent. Even when your facelift results start to wane, you don't have to get a second facelift to keep your appearance. Other lift procedures that focus on specific areas of the face can do the job, such as a brow lift or an eye lift. You can also get similar results from less invasive procedures, including dermal fillers like Botox and facial fat transfers. You and your surgeon can discuss possible strategies and methods for keeping your facelift results around as long as possible and formulate a plan for when you need a touchup.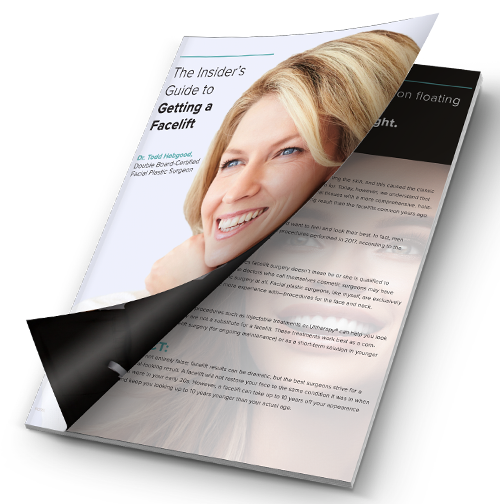 A Must-Have for Facelift Patients
"The Insider's Guide to Getting a Facelift" is the definitive e-book that distinguishes facts from myths and describes the journey of a facelift patient with engaging content and easy-to-understand illustrations.
Double board-certified facial plastic surgeon Dr. Todd Hobgood is one of the leading facelift experts in the U.S., and he's drawn on years of experience to create this Insider's Guide.
Dr. Hobgood's Insider's Guide describes:
Why modern facelift techniques create results that look natural
Who is a good candidate for a facelift
What the difference is between a full and a mini facelift
When you can expect to see friends socially after a facelift
Submit the form below to receive our free eGuide as part of a short series of emails on Facelift.
Fields marked * are required.
Facelift Consultations From Dr. Hobgood
To find out more information about the facelift procedure and how to prolong its results, contact Dr. Todd Hobgood and schedule an appointment. Dr. Hobgood's practice is solely dedicated to plastic surgery procedures involving the head, neck, and face. Hobgood Facial Plastic Surgery also offers a wide variety of surgical and nonsurgical procedures that can give you a fresher, rejuvenated appearance and preserve that appearance for years to come. Dr. Hobgood may be reached by calling (480) 214-9955 or by emailing him through our Patient Contact page to schedule a patient consultation.