If your face has lost volume through natural aging, weight loss or illness, it can create a gaunt appearance. Our face naturally loses volume at and below the cheekbones and around the eyes and temples as we age, as a result of slowed collagen production, muscle atrophy, and skeletal loss.  JUVÉDERM VOLUMA XC is an injectable filler that Scottsdale and Phoenix women and men choose to improve facial volume, lift the cheek area, and helpssculpt the face for a more youthful appearance.
What is JUVÉDERM VOLUMA?
VOLUMA is one of the newest types of hyaluronic acid fillers and it is an FDA-approved treatment that is designed to restore volume in the face. It is often used to treat volume loss of the cheeks, cheekbones, and chin; although, it may also be used to improve definition of the jawline and other areas of the face. The filler works to restore balance and proportion to the face for a softer, more youthful appearance. VOLUMA treatments may also be combined with other injectables such as BOTOX® Cosmetic to redefine the face.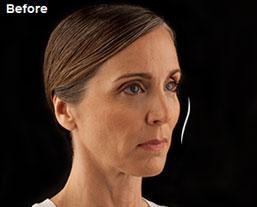 Keep in mind that each patient is unique and your results may vary.
The VOLUMA Treatment
Dr. Hobgood performs VOLUMA injections in his office, and the procedure typically takes less than 30 minutes. Anesthesia is not usually required, as VOLUMA XC contains lidocaine. Patients who are especially sensitive, however, can be made more comfortable with a topical numbing agent.
Dr. Hobgood uses a very fine needle to inject VOLUMA into the deeper layers of the facial tissue along the ridge of the cheek for a natural-looking lift of the cheek area; although, the exact technique may vary.  Also,Dr. Hobgood occasionally will use special cannulas with no needle tip for certain locations and patients.  This provides a different distribution of material and can help to avoid bruising.
VOLUMA Recovery

You will see results from VOLUMA injections immediately. VOLUMA side effects are generally mild and include minor swelling and tenderness; although, rare complications include bruising and irregularities.
If you do experience bumps or distortion, VOLUMA can be reversed.  Hyaluronic acid fillers may be dissolved with an enzyme if you find that any bumps, irregularities or distortion persists after swelling has dissipated.
Patients may return to work immediately after VOLUMA treatments. You can use makeup immediately to cover any redness.
VOLUMA treatments are less painful for some patients than other fillers, as it  is injected deeper in the skin where there are fewer nerves. This also means that VOLUMA usually causes less bruising because it is injected below blood vessels.
FAQ
How long do results from VOLUMA treatments last?
VOLUMA results can last for up to 18 months; although, it depends on how fast your body absorbs the filler and on the treatment area.
Am I a candidate for VOLUMA ?
The ideal candidate for VOLUMA is someone who is in good health wishing to treat volume loss around the cheek area with realistic expectations about the results. Men and women in their 30s and early 40s are often the best candidates.
Is VOLUMA treatment painful?
Most patients experience very mild discomfort during VOLUMA injections, which may feel like a slight pinch or pressure. VOLUMA XC contains lidocaine, which numbs the treatment area, and Dr. Hobgood can also use a topical numbing agent to make you more comfortable.
How much does VOLUMA cost?
A syringe of VOLUMA usually costs between $1,000 and $1,200. Most patients require at least 2 syringes for desired results.