The decision to have a facelift can be life changing. As a double board-certified facial plastic surgeon in Scottsdale, AZ, I have spent several years crafting my surgical technique so that my patients can enjoy natural-looking results.
Yet no matter how subtle or significant the final results, plastic surgery can still carry a stigma. The idea of "having work done" is seen as negative by some people, especially in older generations (many millennials are happy to post their before-and-after selfies). And while plastic surgery has become much more widely accepted over the last few decades, we still have a way to go before we shake the stigma for good.
Many of my patients prefer to be discreet about their treatment, and yet others are happy to talk about it. Whether or not you decide to share your experience is up to you, but here are a few things to consider about opening up:
Remember that your procedure was for you and no one else.
Your decision to get plastic surgery was yours alone, and you don't owe anyone an explanation about why you chose to change your appearance. Whether you wanted to look younger, feel more confident, or reflect how you feel on the inside, you don't need outside validation for your choice.
Similarly, you don't need anyone else's approval about whether you choose to share your experience. Many people have strong opinions about plastic surgery, and many of those same people also want to tell you whether or not you should share your story. Don't let them. At the end of the day, your choices are just that: yours.
If you want to be transparent about your facelift, go for it!
After facelift surgery, many of my patients are so thrilled with their results that they want to share their experience with anyone who will listen. If this is how you feel, then own it! However, realize that some people may not share your enthusiasm or excitement, and that's okay. Don't feel discouraged or disappointed by those who aren't open to plastic surgery. Instead, recognize that it's okay for them to have their own opinion and try not to take their reaction personally.
You can also be selective about whom you choose to tell to help minimize the risk of negative feedback. Close friends, family members, and even co-workers are more likely to share your happiness and offer support and encouragement.
Remember that it's okay to keep things private.
Not everyone wants to discuss their plastic surgery procedure. Some people just prefer their privacy, and there's nothing wrong with that. If it doesn't feel right to you to share your experience with a lot of people, that's okay. Some of my clients tell only their spouse. Others tell their immediate family members or a very small trusted circle of friends. Regardless, the bottom line is that you share what you want with whom you want.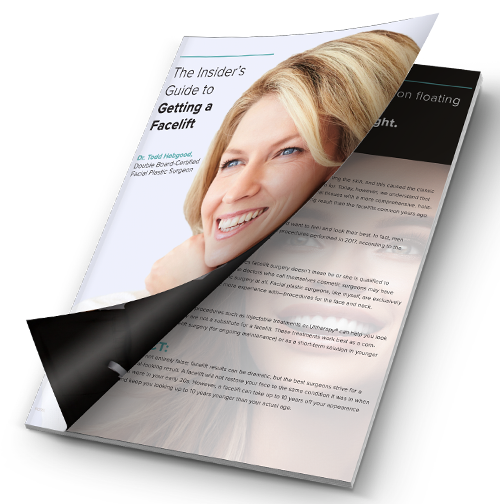 A Must-Have for Facelift Patients
"The Insider's Guide to Getting a Facelift" is the definitive e-book that distinguishes facts from myths and describes the journey of a facelift patient with engaging content and easy-to-understand illustrations.
Double board-certified facial plastic surgeon Dr. Todd Hobgood is one of the leading facelift experts in the U.S., and he's drawn on years of experience to create this Insider's Guide.
Dr. Hobgood's Insider's Guide describes:
Why modern facelift techniques create results that look natural
Who is a good candidate for a facelift
What the difference is between a full and a mini facelift
When you can expect to see friends socially after a facelift
Submit the form below to receive our free eGuide as part of a short series of emails on Facelift.
Fields marked * are required.
Your Look, Your Way
Your facelift surgery should be a personalized experience from start to finish. To get an idea of what facelift surgery an accomplish, check out my before-and-after photo gallery.
If you are ready to talk about your cosmetic goals for facial rejuvenation, contact us today by calling (480) 214-9955.