As a facial plastic surgeon here in Scottsdale, AZ, I often meet with patients who are still on the fence about whether or not they want to undergo facelift surgery. It is important to do your research before deciding to get any cosmetic procedure. Therefore, I usually encourage my patients to consider several things before making their final decision.
Are you a good candidate?
To be a good candidate for a facelift or any cosmetic surgery, you must be in good health, both physically and mentally. You should not have any conditions that could impair healing. You also must have a positive outlook and realistic expectations for your results.
Good candidates have lax skin, loss of definition in the cheeks and along the jawline, and/or sagging jowls. The surgery focuses mainly on the mid to lower face and neck, so if your primary concerns are worry lines, drooping eyebrows, or other issues in the upper face, a brow lift or eyelid surgery may be a better option.
Lastly, good candidates do not smoke or use nicotine products, which have been proven to impair healing and increase the risk of complications. Most surgeons will require that you quit several weeks prior to your procedure.
What are you looking for in a surgeon?
Before deciding on a surgeon, you must do your research and ask plenty of questions. First and foremost, you should choose a board-certified surgeon. If your surgeon is not board certified, it is possible that they have not completed residency or fellowship training in plastic surgery and they may not have the caliber of qualifications you want in a surgeon. Your health and appearance are on the line, so do not settle for an underqualified doctor.
After finding a physician with the right certifications, ask him or her about their experience. Ideally, you want a surgeon who specializes in facelifts rather than a surgeon who focuses on body contouring procedures.
An experienced surgeon should offer a robust photo gallery of their past work. This should be on the surgeon's website, but do not hesitate to ask for more before-and-after photos. Your surgeon's facelift gallery should give you peace of mind and confidence about proceeding with your procedure.
What are the possible complications?
By discussing complications beforehand, you can get a good idea of a surgeon's level of postoperative care and how he or she will work to reduce the chance of complications prior to surgery.
Complications are rare, but they do occur, and it is best to know in advance how your surgeon deals with them. I always encourage my patients to call my office if they have any questions or concerns whatsoever.
If you want to learn more about the procedure, visit our facelift page for more information.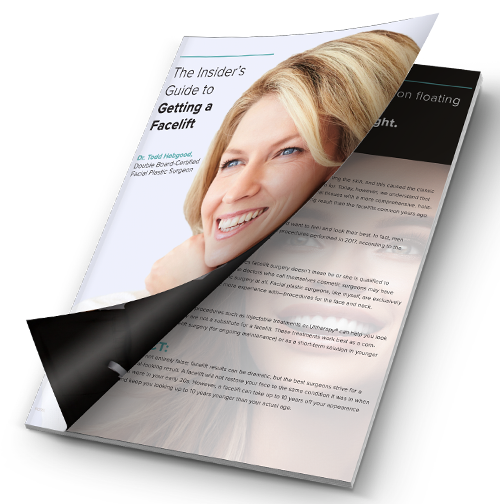 A Must-Have for Facelift Patients
"The Insider's Guide to Getting a Facelift" is the definitive e-book that distinguishes facts from myths and describes the journey of a facelift patient with engaging content and easy-to-understand illustrations.
Double board-certified facial plastic surgeon Dr. Todd Hobgood is one of the leading facelift experts in the U.S., and he's drawn on years of experience to create this Insider's Guide.
Dr. Hobgood's Insider's Guide describes:
Why modern facelift techniques create results that look natural
Who is a good candidate for a facelift
What the difference is between a full and a mini facelift
When you can expect to see friends socially after a facelift
Submit the form below to receive our free eGuide as part of a short series of emails on Facelift.
Fields marked * are required.