All patients will inevitably lose volume in the face.  We lose the heart-shaped youthful face as it becomes more deflated and gaunt with time. Radiesse is a facial filler that naturally restores these elements, resulting in a refreshed and natural appearance. Use of Radiesse treatments provides special improvement in fullness, skin laxity, fine lines, and wrinkles.
What Is Radiesse?
Radiesse, once called Radiance, is a facial filler made from calcium-based gel. It is capable of reshaping the contours of your face. It fills in dark hollows below your eyes, smoothing deep creases, while sculpting the jaw line. While experiences vary, the results typically last up to two years without the risks that may be associated with implants or non-absorbable fillers.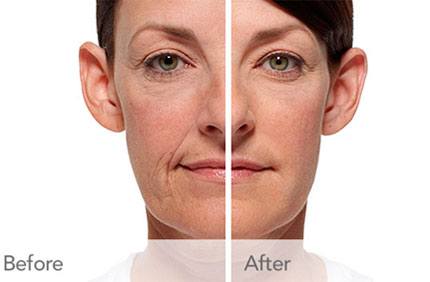 Individual results may vary.
How Radiesse Is Used
Radiesse is made of Calcium Hydroxylapatite (CaHA) microspheres. These are suspended in a gel formula. It is used in facial augmentation of the areas around the pre-jowl and cheek. Chin lines, smile lines and corners of your mouth may be improved by Radiesse injections. It can also be used to rejuvenate hands. The volume of the targeted area is increased immediately for noticeable improvement.
Folds in your skin and fine lines will also be smoothed. Radiesse provides rejuvenation for your face and also stimulates the production of natural collagen. This will create longer-lasting effects. Radiesse is one of just a few wrinkle treatment fillers that can give you immediate improvement, while also promoting your body's natural collagen production.
Are You a Candidate for Radiesse Treatments?
If you are in good health and your expectations are realistic, you may be a prime candidate for Radiesse and its effective treatment of volume loss in the face and hands. Allergy testing will not be required, since Radiesse's CaHA is quite similar to minerals that are naturally found in the body.
Radiesse Treatment Process
These treatments are generally performed in the office, and they take about one half hour to perform. Lidocaine, a local anesthetic, is used in the solution, so injections are more comfortable.
Once your face is injected with Radiesse, it will provide immediate correction and volume, and its work will continue by its stimulating your body to produce your own natural collagen.
Over a period of time, the gel in these dermal injections will be absorbed, and your body will metabolize the CaHA microspheres. This leaves only your body's own collagen behind.
After Your Radiesse Treatments
The results you achieve after your Radiesse injections are immediately noticeable, and may last for up to two years, or even longer depending on the area of the face treated. At that point, additional injections will be required to maintain your results. You may resume work immediately.
Radiesse Side Effects and Risks
Exercise and any other strenuous activities must be avoided for the first one to two days after your injection, or you may experience irregularities in your facial contours. Minor complications may include swelling and redness. Bruising is common, too, but these side effects are temporary and will resolve themselves shortly after your procedure.
Rare Radiesse side effects include facial asymmetry, scarring, infection, bleeding and numbness. These risks are minimized by choosing a highly experienced and qualified surgeon like Dr. Hobgood to perform the injections.
FAQ
How long do Radiesse results last?
While experiences vary, Radiesse treatment results typically last up to two years, or even longer depending on the area of the face that is treated.
Are Radiesse treatments painful?
Most patients report only mild discomfort during Radiesse injections. Dr. Hobgood may use a dental block or local anesthesia to make the procedure more comfortable.
How much does Radiesse cost?
A single syringe of Radiesse can cost between $400 and $650. Some patients require at least two syringes for the desired results.
How soon can I return to work after Radiesse treatments?
Some patients prefer to wait until swelling and redness subside to return to work, although you may resume work and other normal activities immediately after treatment.