These days, we have seen that patients work longer in their careers, have more daily responsibilities, and simply can't tolerate extended down time. This has driven surgeons back to exploring less invasive facelifts. It can be confusing for the potential patient, although it shouldn't be. All of these surgical procedures are essentially identical and involve less invasive procedures with less recovery time and some pretty reasonable facelift results. Minimally invasive lift procedures are best suited for patients who have moderate facial wrinkles and jowls with relatively less severe neck aging.
These trendy procedures are actually less innovative than one might think. Recent advertising by some plastic surgeons in Scottsdale, Arizona might suggest that there are certain surgeons or corporations that have developed new techniques. In reality, these lifts have been utilized with success and safety for decades.
Some patients can be treated with minimally invasive facelift techniques under local in office conditions, while many are more comfortable with twilight anesthetic. I still complete a very thorough examination and preoperative full body physical including blood work and an EKG prior to considering this approach.
The most important issues relate to patient safety, communication and quality of care. We tend to believe that you should seek consultation with multiple experienced Scottsdale or Paradise Valley Plastic Surgeons before committing to a plan.
The results are certainly very well accepted by patients and bring a very high level of patient satisfaction. Most patients are back in make up at 7 days and can resume most day to day activities at that time with the exceptions of certain work out routines. Most patients do not require drains and can shower the next day.
Trust your face to a facial plastic surgeon. Your face is our only priority.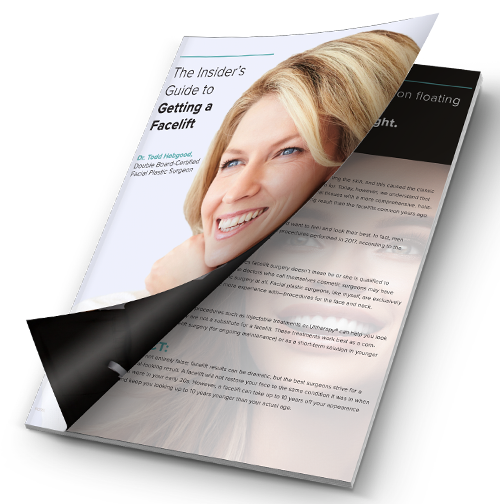 A Must-Have for Facelift Patients
"The Insider's Guide to Getting a Facelift" is the definitive e-book that distinguishes facts from myths and describes the journey of a facelift patient with engaging content and easy-to-understand illustrations.
Double board-certified facial plastic surgeon Dr. Todd Hobgood is one of the leading facelift experts in the U.S., and he's drawn on years of experience to create this Insider's Guide.
Dr. Hobgood's Insider's Guide describes:
Why modern facelift techniques create results that look natural
Who is a good candidate for a facelift
What the difference is between a full and a mini facelift
When you can expect to see friends socially after a facelift
Submit the form below to receive our free eGuide as part of a short series of emails on Facelift.
Fields marked * are required.