Choosing a facelift surgeon is both exciting and a bit nerve-wracking. Many patients consult with at least 2 or 3 plastic surgeons before making a choice, and the decision is as important as choosing to get plastic surgery in the first place. Now that you've selected a facial plastic surgeon in the Phoenix-Scottsdale area, it's time to prepare.
Facelift Preparation Tips
In this blog post, I'll provide information that's important to know in the weeks leading up to the surgery. Of course, our practice provides detailed pre- and post-op instructions to all of our patients.
Taking these tips to heart will help both the procedure and the recovery process go smoothly:
Quit smoking at least a month before the surgery: Smoking or using any tobacco products is unhealthy for a number of reasons, but it can be especially harmful to surgical patients. That's because tobacco products constrict blood, increasing the risk of complications during the surgery and slowing the recovery process.
Apply sunscreen generously every day: Living in the desert poses its own unique challenges, including exposure to intense sunlight. The last thing you want is to get a sunburn on your face just before facelift surgery.
Stay hydrated: This is one of those habits people should develop even if they're not undergoing plastic surgery. Keeping your body hydrated before surgery that involves general anesthesia helps you become alert more quickly after the procedure. Even being mildly dehydrated can restrict blood flow and increase the risk of surgical complications.
Avoid drinking alcohol for 3 to 5 days before the operation: Drinking alcohol and staying hydrated don't go together.
Avoid taking aspirin, anti-inflammatory drugs, and herbal supplements: Consult with your physician first, but if these medications can be temporarily suspended without affecting your health, then you should do so. Taking these types of medications can increase bleeding and bruising.
Fill prescriptions, including those issued by the plastic surgeon and the medications you normally take: Crossing this errand off your to-do list before surgery ensures you will have whatever meds you need immediately.
Prepare your home for recovery: Even though facelift recovery is often much more tolerable than patients think, it's important to create a comfortable resting area with easy access to books, remotes, or smartphones or devices.
Prepare meals: Having healthy pre-made meals available during recovery is something that people tend to forget about. You'll be glad you thought ahead.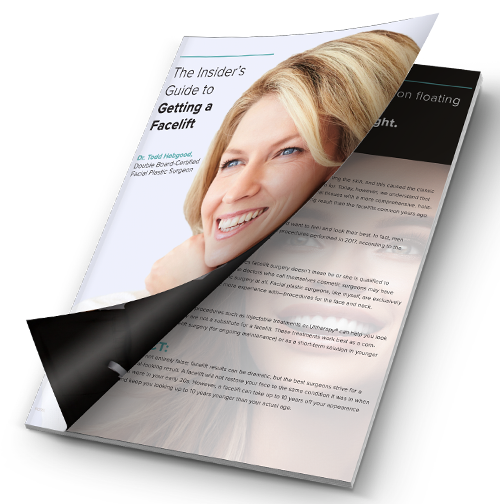 A Must-Have for Facelift Patients
"The Insider's Guide to Getting a Facelift" is the definitive e-book that distinguishes facts from myths and describes the journey of a facelift patient with engaging content and easy-to-understand illustrations.
Double board-certified facial plastic surgeon Dr. Todd Hobgood is one of the leading facelift experts in the U.S., and he's drawn on years of experience to create this Insider's Guide.
Dr. Hobgood's Insider's Guide describes:
Why modern facelift techniques create results that look natural
Who is a good candidate for a facelift
What the difference is between a full and a mini facelift
When you can expect to see friends socially after a facelift
Submit the form below to receive our free eGuide as part of a short series of emails on Facelift.
Fields marked * are required.
Finally, make sure you have someone to drive you home after the surgery and that you have someone who can stay with you for at least 24 hours after the surgery.
If you're still thinking about getting a facelift, browse our gallery of before-and-after photos to see the type of results you can expect. You can contact us using the online form to request a consultation or call our office at (480) 214-9955 to schedule an appointment.