Brow Lift
Scottsdale and Phoenix residents choose forehead lift, also called a brow lift, to replace that tired look with a more youthful and alert expression.
One of the goals with forehead lifts is to smooth out creases that are caused by years of expressions, including frown lines in the region of your brow. It can also raise sagging muscle and skin back into a position that is more pleasing to you.
What Is a Brow Lift?
The brow lift is a cosmetic procedure people from Mesa, Tempe, Chandler, and surrounding areas choose  to correct worry lines, drooping eyebrows, and other effects of aging and exposure to the environment. It restores a more youthful appearance by tightening and smoothing forehead skin. It also addresses issues for people who have eyebrows that are naturally low.
You may wish to have eyelid surgery or some of the other types of facial procedures done at the same time as a forehead lift, so that those features will also appear youthful.
A Reputation Built on Results
Dr. Hobgood is a very skilled surgeon. He is very good at what he does. He has a wonderful bedside manor,...
Dr. Hobgood is seriously a fantastic surgeon. Not only is his work perfect, but he puts your mind at...
Really Dr. Hobgood does not need any reviews! His reputation alone speaks volumes! I took my daughter...
Dr. Hobgood is amazing! I had a rhinoplasty with him and love my results! He's very talented at what...
How Much Does a Brow Lift Cost?
The cost of a forehead lift is typically between $5,000 and $7,000, including the facility fee, anesthesia fee, and the surgeon's fee. It also depends on the surgical technique and level of correction.
The Brow Lift Procedure
Brow lifts are performed in general with endoscopic techniques. The surgery is performed using cameras under the skin and watching the procedure on a television in the operating room. Usually four smaller incisions are hidden in the scalp behind the hairline so that no scarring is detectable. The deepest layers of the forehead tissue are released from the cheek bones, nasal bones, and brow bone. The tissue is then returned to a more natural and youthful position before locking this into place with dissolving clips or sutures. The procedure lasts about two hours in most cases.
In some cases patients present at a younger age and have only a small amount of dropping of the outside or lateral portion of the brow. These patients are often encouraged to consider a procedure known as a "lateral subcutaneous brow lift." In this case a less invasive approach is taken and the incision is placed at the hairline for a natural outcome limiting the lift to the lateral brow only. Dr. Hobgood will assist you in correctly diagnosing your issues and helping you choose the most appropriate approach.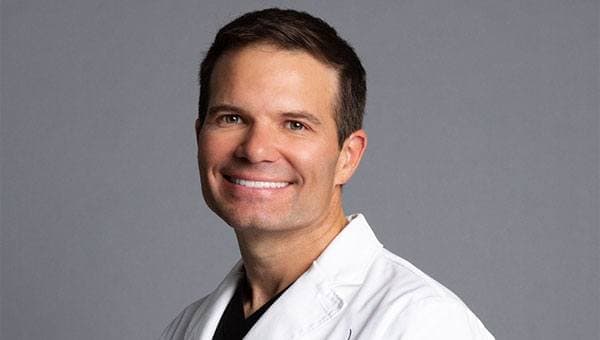 Dr. Todd Hobgood
Dr. Hobgood combines his down-to-earth, personable demeanor with an artistic eye and technical expertise honed through thousands of surgeries, including more than 1,000 facelifts. He's recognized nationally for his leadership and has been honored by the American Academy of Facial Plastic and Reconstructive Surgery for his ongoing commitment to quality.
Meet Dr. Hobgood
Forehead Lift Recovery
Swelling and bruising are nearly always a part of this procedure, but they will usually recede within 10 days. Cold compresses are helpful in controlling swelling.
Once the swelling subsides, your youthful, smoother results will become apparent. If staples were used, they will be removed 14 days after the procedure.
Forehead lifts are usually performed on an outpatient basis, so forehead lift recovery is minimized. You will generally return home the same day as the procedure. It's a good idea to stay at home, elevating your head, for two or three days.
Itching and pain are normal, whether you have a conventional or endoscopic procedure. Dr. Hobgood will give you instructions on the best way to shorten the time needed for your brow lift recovery.
Brow Lift Risks and Complications
There are rarely serious complications after forehead lifts, but these brow lift risks can involve damage to the nerves of your face. This may lead to paralysis or loss of sensitivity in the facial muscles.
Bleeding, swelling and bruising are more common forehead lift risks, and infection may sometimes occur. In the majority of cases, negative effects are only temporary and will disappear within several months.
Brow Lift FAQ
Can a brow lift be combined with other procedures?
A forehead lift may be combined with a blepharoplasty, or eyelid lift, for greater rejuvenation of the upper face, or a facelift and belpharoplasty for complete facial rejuvenation.
Does a brow lift leave scars?
Yes, although these scars are typically well hidden in the hairline.
How soon can I return to work after my forehead lift surgery?
Most patients return to work within 1 to 2 weeks after the brow lift procedure.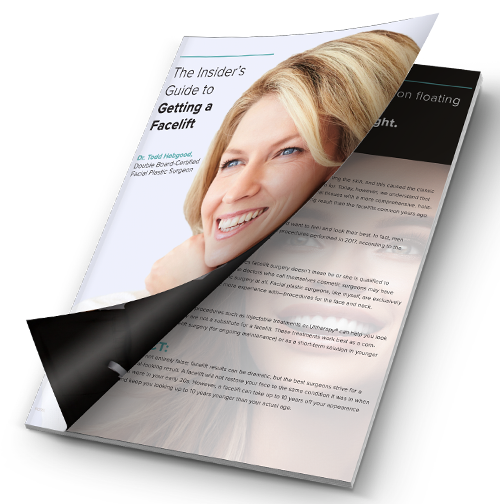 A Must-Have for Facelift Patients
"The Insider's Guide to Getting a Facelift" is the definitive e-book that distinguishes facts from myths and describes the journey of a facelift patient with engaging content and easy-to-understand illustrations.
Double board-certified facial plastic surgeon Dr. Todd Hobgood is one of the leading facelift experts in the U.S., and he's drawn on years of experience to create this Insider's Guide.
Dr. Hobgood's Insider's Guide describes:
Why modern facelift techniques create results that look natural
Who is a good candidate for a facelift
What the difference is between a full and a mini facelift
When you can expect to see friends socially after a facelift
Submit the form below to receive our free eGuide as part of a short series of emails on Facelift.
Fields marked * are required.