Chin Augmentation
When facial features are out of balance, facial plastic surgeon Dr. Todd Hobgood can improve that balance with chin augmentation surgery serving Scottsdale and Phoenix, AZ, and surrounding areas. The shape of the chin can be improved using soft chin implants or soft tissue fillers.  Candidates for chin augmentation are usually those with microgenia or insufficient chin bone structure.
Chin augmentation is often used in combination with rhinoplasty surgery to help bring harmony to the facial profile.  They are also commonly employed with facelift and liposuction patients to improve the strength of the chin and jaw line providing a much more youthful appearance.  Many patients are not aware that the jawbone actually shrinks as we age.  Chin augmentation is a very significant but often over-looked component of natural outcomes.
The Chin Augmentation Procedure
This is an outpatient procedure, with length of time depending on the type of procedure being performed. When soft implants or fillers are used, Dr. Hobgood makes a small incision beneath the chin or inside the mouth into which the implant is inserted. Another technique is fat transfer, which simply reroutes fat tissue from one part of the body into the area of the jawline or chin. Incisions are closed with soft sutures.
Chin Augmentation Recovery
Recovery after chin augmentation surgery can be as short as one week. However, the minor swelling that accompanies the procedure can take several weeks to subside. Patients can also experience bruising and tightness when smiling and talking.  Medication can be used to alleviate these symptoms, which are usually mild in severity. A few days off of work may be required in order to fully recover from the insertion of chin implants. It is important that patients are careful not to engage in any activity that can cause impact to the face, such as contact sports or anything that requires a helmet be worn.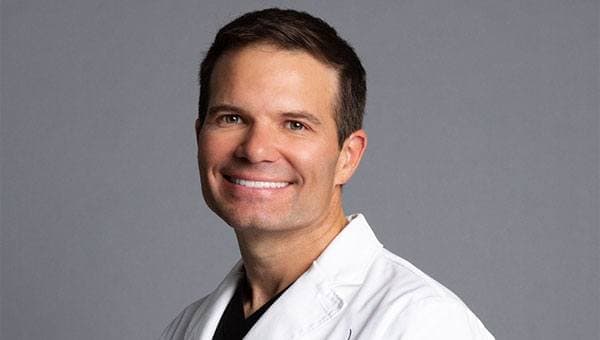 Dr. Todd Hobgood
Dr. Hobgood combines his down-to-earth, personable demeanor with an artistic eye and technical expertise honed through thousands of surgeries, including more than 1,000 facelifts. He's recognized nationally for his leadership and has been honored by the American Academy of Facial Plastic and Reconstructive Surgery for his ongoing commitment to quality.
Meet Dr. Hobgood
Risks and Complications of Chin Augmentation
As with any surgery, risks and complications are possible with chin augmentation. One complication that can occur is the chin shifting out of alignment, which would require additional surgery. A possible risk is infection, which can usually be overcome with antibiotic medication. The implants can also become infected, and may need to be temporarily removed. Depending on the material used to manufacture the implant, the risks could vary.
If you're interested in chin augmentation, contact our office to schedule your consultation.
A Reputation Built on Results
I wish I could put ten stars by this review.!!! I would HIGHLY recommend Dr. Hobgood. Him and his staff...
the process was very easy and pleasant. everyone who worked there was polite and very helpful, and Dr.Hobgood...
Dr Hobgood deserves more than 5 stars! He takes the time to make sure his patients are comfortable and...
I got a rhinoplasty from Dr. Hobgood in March 2022. I highly recommend Dr. Hobgood and his entire team....
FAQ:
What are chin implants made from?
Dr. Hobgood uses facial implants made from silicone, Goretex, of mersilene mesh.
Are there risks of chin augmentation?
As with any surgical procedure, there are risks. Chin augmentation surgery risks include numbness and infection, which may require Dr. Hobgood to remove the implant.
What are the approximate costs for a chin implant?
Most patients can expect to spend between $5,000 and $7,000, which includes surgeon fees, fees for anesthesia, and facility fees.
Are there risks of chin augmentation?
As with any surgical procedure, there are risks. Chin augmentation surgery risks include numbness or infection, which may require Dr. Hobgood to remove the implant.