Facial Liposuction
Excess fat on the face and neck can cause you to look older or heavier than you really are. In many cases, genetics is responsible for a double chin or thick neck. As we age, fat tends to build up in the lower face and neck. Double board-certified facial plastic surgeon Dr. Todd Hobgood uses a specialized liposuction technique called liposculpture to give his Scottsdale and Phoenix patients more refined facial contours. Through precise fat removal, he can provide noticeable, natural-looking enhancements.
To meet with Dr. Hobgood in Scottsdale, Arizona, and find out how facial liposuction can help you have a more vibrant look, request a consultation using our simple online form. You can also call our office at (480) 418-6415 to schedule an appointment.
What Is Liposculpture?
Liposculpture is a type of liposuction that involves the use of a very thin tube called a cannula to extract fat. While liposuction can produce very significant changes to the body, liposculpture can provide subtle changes to small or delicate areas. Rather than removing a large bulk of area, liposculpture can create a more toned appearance. It requires an artistic eye and excellent surgical technique for great results.
Liposuction or liposculpture is a safe, effective treatment that can help you achieve the body shape you want, while slimming and reshaping specific areas.
Are You a Candidate for Facial Liposuction?
The ideal candidates for facial liposuction are men and women who have firm, elastic skin and are close to average weight. Dr. Hobgood uses this procedure to provide one or more of the following improvements:
Slim cheeks and double chins for a fit, more youthful look
Define and contour a soft, sagging jawline
Sculpt a full, well-defined neck
When performing liposuction, Dr. Hobgood uses gentle techniques to optimize facial fat transfer results.
A Reputation Built on Results
Dr. Hobgood is a very skilled surgeon. He is very good at what he does. He has a wonderful bedside manor,...
Dr. Hobgood is seriously a fantastic surgeon. Not only is his work perfect, but he puts your mind at...
Really Dr. Hobgood does not need any reviews! His reputation alone speaks volumes! I took my daughter...
Dr. Hobgood is amazing! I had a rhinoplasty with him and love my results! He's very talented at what...
How Much Does Facial Liposuction Cost?
The cost for facial liposuction at our Scottsdale practice ranges from $4,000 to $7,000, depending on the specifics of your procedure, including the areas treated and whether liposuction is combined with other procedures. You will receive a personalized estimate for your procedure during your consultation.
Your Liposculpture Procedure
Dr. Hobgood typically performs liposculpture as an outpatient procedure using general anesthetic. He uses the traditional tumescent liposuction technique, which involves infusing the targeted fat with a solution of lidocaine and epinephrine to control pain, constrict blood vessels, and minimize swelling.
Once the area is prepared, Dr. Hobgood makes tiny incisions and carefully suctions away the fatty tissue through a cannula. Treated areas are wrapped in a compression garment to reduce swelling and encourage firm contours while healing.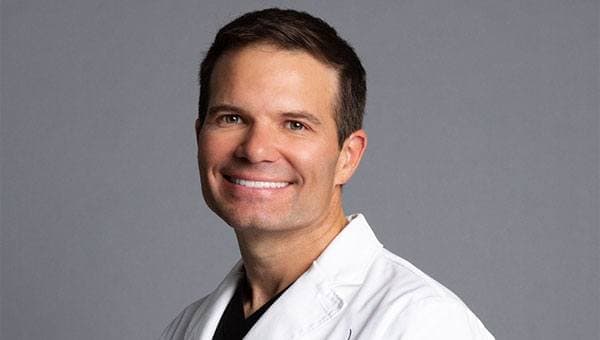 Dr. Todd Hobgood
Dr. Hobgood combines his down-to-earth, personable demeanor with an artistic eye and technical expertise honed through thousands of surgeries, including more than 1,000 facelifts. He's recognized nationally for his leadership and has been honored by the American Academy of Facial Plastic and Reconstructive Surgery for his ongoing commitment to quality.
Meet Dr. Hobgood
What Is the Recovery Time for Liposculpture?
Liposculpture recovery typically takes 1 week. Most patients feel well enough to return to work within 4 to 7 days. Light exercise and walking can be resumed after just 1 or 2 days, but heavy lifting and strenuous work should be avoided for at least one week.
Some patients experience minor swelling and bruising, which are temporary and typically improve within 2 to  3 weeks. For several weeks, patients are encouraged to wear a compression garment to discourage fluid accumulation and swelling. Mild burning and pain are common, but Dr. Hobgood can prescribe pain medication for a more comfortable recovery.
Risks of Liposculpture
Liposculpture is considered a very safe procedure. As with any surgical procedure, however, there are risks. Rare complications from liposculpture include bleeding, blood clots, infection, asymmetry and skin discoloration. Fat embolism is also a risk, but it is incredibly rare. Risk can be mitigated by choosing a board-certified facial plastic surgeon like Dr. Hobgood who is very experienced and qualified to perform liposuction procedures.
Common Questions
How long after facial lipo can you see results?
The final results are typically visible within 4 to 6 months; although experiences vary.
Will liposculpture leave scars?
While scars are inevitable with any surgical procedure, the scars from liposculpture are very small, as incisions are just half an inch. Scars will fade over time and become hard to notice.
Can liposuction be combined with other procedures?
Most definitely. Dr. Hobgood often uses liposuction to enhance the results of facelifts, eyelid surgery, neck lifts, and other facial cosmetic surgery procedures. When sculpting the neck or a double chin, Dr. Hobgood may also place a chin implant to improve definition of the jawline.
Is facial liposuction permanent?
Liposuction results are long lasting; however, future weight gain and the natural aging process may have an impact on results.