You've got facelift questions, I've got answers.
As a facial plastic surgeon and facelift specialist in Scottsdale, AZ, I know people often have lots of questions about the surgery, what it involves, and what to expect. That's why in this blog post, I'm answering some of the most-Googled questions about all things facelifts.
Chances are no matter what you may be wondering about, you're not the only one. Ready to get some answers to what the Internet wants to know? Read on.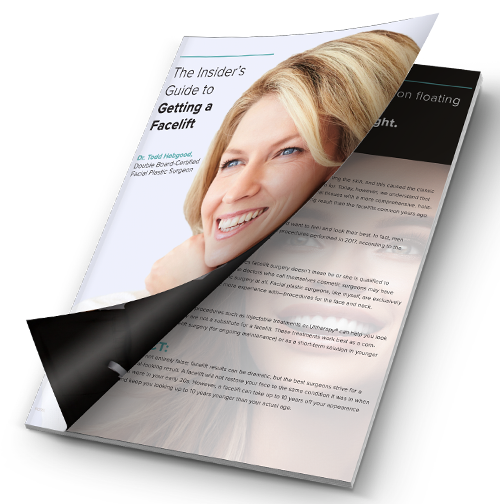 A Must-Have for Facelift Patients
"The Insider's Guide to Getting a Facelift" is the definitive e-book that distinguishes facts from myths and describes the journey of a facelift patient with engaging content and easy-to-understand illustrations.
Double board-certified facial plastic surgeon Dr. Todd Hobgood is one of the leading facelift experts in the U.S., and he's drawn on years of experience to create this Insider's Guide.
Dr. Hobgood's Insider's Guide describes:
Why modern facelift techniques create results that look natural
Who is a good candidate for a facelift
What the difference is between a full and a mini facelift
When you can expect to see friends socially after a facelift
Submit the form below to receive our free eGuide as part of a short series of emails on Facelift.
Fields marked * are required.
Q: When can I go out in public without looking like I just had facelift surgery?
A: It's normal to have some bruising and swelling for about 2 weeks after surgery. While some swelling may last a bit longer, most people find they can return to work and social activities within 2 or 3 weeks and easily cover up any remaining bruising with makeup.
Q: How long should numbness last after a facelift?
A: Many people experience some degree of numbness along their incisions after a facelift. If this is the case for you, don't worry; it's normal and it's temporary. While most numbness or tingling will go away within a few weeks, it may take a few months for it to resolve altogether.
Q: Is 40 too young for a facelift?
A: It's entirely possible you're ready for a facelift at 40—it's more common than you may think. In 2020, 21% of all facelifts were performed on people aged 40 to 54, according to The Aesthetic Society®. If you have lower facial sagging, jowls, a square face shape, flat cheeks, and loss of definition of your jawline, you're likely a candidate for a facelift, or perhaps a mini facelift. Learn all about the differences between these surgeries in this previous blog post.
Q: What do facelift scars look like?
A: I take great care to disguise facelift incisions along the hairline near your temples and in natural creases around your ears. Once your incisions heal, they should be barely visible—just thin, faint lines that blend seamlessly in with the natural edges of your face.
Q: How much does a facelift cost?
A: On average, people pay about $15,000 for a facelift in the Phoenix Metropolitan area. Your cost will vary depending on the complexity of your procedure, whether you include any other procedures (such as a neck lift), and other factors. You may also pay a little more for the peace of mind that comes with choosing a board-certified facial plastic surgeon in Scottsdale.
Q: How painful is a facelift?
A: You may have some mild to moderate discomfort for the first few days after your facelift. Your face may seem taut, tender, and have a deeply bruised sensation. Over-the-counter painkillers may be all you need to keep this discomfort at bay, but I am happy to write you a prescription for medication to make sure you stay as comfortable as possible during that initial recovery period.
Q: Are facelifts worth it?
A: It's up to you to decide whether a facelift is worth it. In my experience as a facial plastic surgeon, however, I've had the honor of performing more than 1,000 facelifts and seeing firsthand the difference they've made in people's lives. By turning back the clock, facelifts help people feel like themselves again, giving them years of newfound confidence to enjoy. I'd call that worth it, and I think my patients would, too.
You can see real examples of those transformations in my before-and-after photo gallery.
I hope this blog post answered any questions you may have had, but if it didn't, please get in touch! Contact me online or give me a call at (480) 418-6415. I look forward to hearing from you.