As a double board-certified facial plastic surgeon, I often hear concerns about sagging skin and the loss of volume in the face and neck. Patients who have researched facelift surgery online may be confused because multiple options exist. Knowing the approach that's right for you isn't easy. In this post, I will focus on describing the differences between a full facelift and a mini facelift and why you may benefit from one or the other.
What Is Considered a Full Facelift?
Some of the features involved in a full or traditional facelift include:
A full facelift addresses the lower two-thirds of the face by elevating the tissue and muscle underlying the skin.
The procedure removes excess skin from the lower face and neck, restoring definition to the jawline and correcting the loss of facial volume.
The results are long-lasting. You can learn more about how long facelift results last in our related blog post.
The incisions for a full facelift are made discreetly around and behind the ears. This is necessary to remove an optimal amount of excess skin.
The American Society of Plastic Surgeons provides more detailed information about who makes a good candidate for a full facelift, what the procedure entails, and what to expect during recovery.
Facelift Before and After Photos
What Is a Mini Facelift?
Here is what distinguishes a mini facelift from a full facelift:
Sometimes called a short-scar facelift, this procedure is technically referred to as a SMAS plication lift. It is usually reserved for younger patients.
A mini facelift reduces minor sagging on the lower face and neck.
It is a minimal skin tightening procedure that offers shorter-lived results than a traditional facelift.
The incision is smaller than the incision for a full facelift.
The mini facelift has a reduced recovery when compared to a full facelift.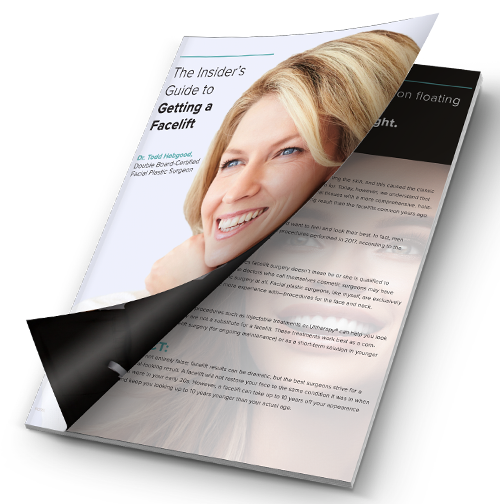 A Must-Have for Facelift Patients
"The Insider's Guide to Getting a Facelift" is the definitive e-book that distinguishes facts from myths and describes the journey of a facelift patient with engaging content and easy-to-understand illustrations.
Double board-certified facial plastic surgeon Dr. Todd Hobgood is one of the leading facelift experts in the U.S., and he's drawn on years of experience to create this Insider's Guide.
Dr. Hobgood's Insider's Guide describes:
Why modern facelift techniques create results that look natural
Who is a good candidate for a facelift
What the difference is between a full and a mini facelift
When you can expect to see friends socially after a facelift
Submit the form below to receive our free eGuide as part of a short series of emails on Facelift.
Fields marked * are required.
Neither procedure addresses age-related changes in the upper face, such as forehead lines or sagging eyelids. Many facelift patients choose to combine their procedure with a brow lift or an eyelid lift to achieve full facial rejuvenation.
Start With a Consultation
The different variations of facelift surgery can be confusing and overwhelming and are best discussed with a facial plastic surgeon. I encourage women and men who are considering a facelift in the Scottsdale and Phoenix areas to request a consultation to learn about how facelift surgery can be tailored to your needs. You can also call us at (480) 214-9955 to schedule an appointment. We're looking forward to seeing you!