A facelift at our Scottsdale practice can be a truly transformative procedure. The advanced techniques of this procedure can provide natural-looking results and take years off your appearance. Lasting improvement can only be achieved with a complete facelift, which can correct a handful of issues that come with aging, such as thinning and lax skin, fat breakdown, and the pull of gravity. In this post, we will identify good candidates for the procedure.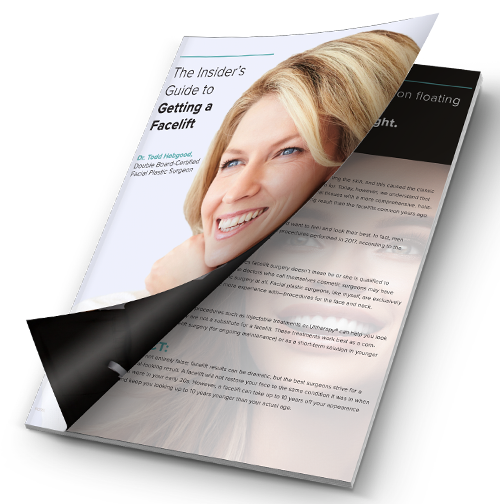 A Must-Have for Facelift Patients
"The Insider's Guide to Getting a Facelift" is the definitive e-book that distinguishes facts from myths and describes the journey of a facelift patient with engaging content and easy-to-understand illustrations.
Double board-certified facial plastic surgeon Dr. Todd Hobgood is one of the leading facelift experts in the U.S., and he's drawn on years of experience to create this Insider's Guide.
Dr. Hobgood's Insider's Guide describes:
Why modern facelift techniques create results that look natural
Who is a good candidate for a facelift
What the difference is between a full and a mini facelift
When you can expect to see friends socially after a facelift
Submit the form below to receive our free eGuide as part of a short series of emails on Facelift.
Fields marked * are required.
Do you want to look younger?
This seems like an easy answer, as most people want a youthful complexion and overall younger appearance. In general, a facelift can be long-lasting and give years of great results. The procedure can turn back the clock on a your appearance by lifting facial tissues that begin to sag with age. The more severe the facial aging is, the more dramatic the outcome will be.
Are you unhappy with neck fat, wrinkles, sagging cheeks, and deep lines around the mouth and nose?
A facelift can address these common concerns. However, many patients are worried about looking "windswept" or unnatural after the procedure. Giving you a youthful, yet natural-looking result is my top priority. I do this by carefully evaluating your unique characteristics and creating an individualized surgical plan. No two patients are the same, so customizing your treatment is essential to reaching your desired outcome.
Are you an overall healthy individual?
For facelift candidates, age is not as much of a factor as is overall health. The healthier you are, the easier and faster your recovery will be. A facelift may not be a good option if you have any medical conditions that impair healing. For example, obesity, chronic diseases, immunosuppression and radiation therapy, nutritional status, and vascular insufficiency are all factors that can impact wound healing. It is important to disclose any conditions to your surgeon before your procedure.
Do you smoke?
Smoking and the use of any nicotine products can slow down healing, compromise results, and heighten the risk of complications. Nicotine causes the blood vessels to constrict, which reduces blood flow to the skin and wounds. Smoking also damages small vessels and impairs blood flow. We recommend that patients stop smoking weeks before surgery and continue cessation throughout recovery. Smoking can slow down your healing and minimize the longevity of your results.
Do you have a positive attitude?
Patients for any cosmetic procedure should have a positive outlook and realistic expectations for their results. It is also important to have a good support system of close family members and friends to be by your side during your journey and help you during your recovery.
Are you willing to follow post-op instructions?
Following your surgeon's instructions is essential to a speedy recovery. Resting and keeping your head elevated will reduce swelling. Overexerting yourself too soon can have adverse effects. Not only should you listen to your surgeon, but you should also listen to your body.
Is a mid facelift a better option for me?
For people who are most concerned with the mid portion of their face, a mid facelift might be most appropriate. A mid facelift, also called a cheek lift, can address hollowing beneath the eyes and in the cheek area. Because this surgical procedure is not as extensive as a full facelift, patients have less swelling and bruising, and a slightly shorter recovery time. You should still be prepared to take off a few days of work to rest and recuperate.
If you think you may be a good candidate for a facelift, I invite you to visit our gallery of before and after photos. This can give you a good idea of your possible surgical results.