Blepharoplasty
Phoenix and Scottsdale residents trust Dr. Todd Hobgood for blepharoplasty, often called eyelid surgery, to address some of the aesthetic concerns that bother them most. Because the skin surrounding the eyes is relatively thin and delicate, it's often the first place to droop, sag, and wrinkle. Many people feel that their eyelids make them appear older, worn out, or sad. Some individuals may even experience visual impairment as a result of sagging skin. Dr. Hobgood uses his refined skills to address the features of your lower and upper eyelids that make you feel self-conscious.
Keep in mind that each patient is unique and your results may vary.
Is Blepharoplasty Right for You?
The ideal candidate for blepharoplasty is a nonsmoker in generally good health who wishes to refresh his or her eyes. Potential candidates should not have any existing health problems that may interfere with their suitability for the procedure, such as bleeding disorders, diabetes, cardiovascular diseases, compromised immunity, active infections, and certain eye disorders. These conditions can lead to a greater risk of infection, reduced healing, serious bleeding, and other complications associated with surgery and anesthesia.
Blepharoplasty can treat many common aesthetic concerns of the upper and lower eyelids, including the following:
Fat deposits or "bags"
Drooping or sagging skin
Creases, wrinkles, or crepey skin
How Much Does Blepharoplasty Cost?
The cost of eyelid surgery in Scottsdale, Chandler, and the Phoenix area typically ranges between $3,500 and $9,000. More complex cases typically fall on the higher end of the cost spectrum, and the price goes up for those who combine eyelid surgery with other procedures, such as a brow lift. During your consultation, Dr. Hobgood reviews your potential cost with you to help you make an informed decision.
Your Eyelid Surgery Consultation
Before you can undergo eyelid lift surgery, Dr. Hobgood schedules you for a consultation appointment to determine your suitability for the procedure. During the appointment, Dr. Hobgood examines your eyes, asks you about your goals for the surgery, and reviews your medical history. He also asks you whether you use contact lenses and if you have good tear production. This information helps him to determine whether you have any problems that could make complications more likely or eliminate you as a good candidate for eyelid lift surgery. Certain factors can affect the results of the procedure, such as skin type, age, ethnic background, and how much vision impairment, if any, you have.
Dr. Hobgood discusses his findings with you, addresses any concerns or questions you have, works with you to develop a treatment plan, and goes over the finer details of the surgery with you so you know what to expect.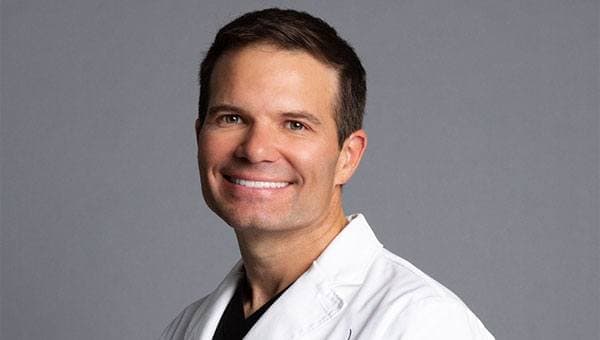 Dr. Todd Hobgood
Dr. Hobgood combines his down-to-earth, personable demeanor with an artistic eye and technical expertise honed through thousands of surgeries, including more than 1,000 facelifts. He's recognized nationally for his leadership and has been honored by the American Academy of Facial Plastic and Reconstructive Surgery for his ongoing commitment to quality.
Meet Dr. Hobgood
Can Eyelid Surgery Be Combined With Other Procedures?
For many women and men, blepharoplasty is a good complement to brow lift, facelift, or another type of facial rejuvenation, that could include, fat transfer, a chemical peel or carbon dioxide laser treatment.
Are You Awake During Blepharoplasty?
Dr. Hobgood can perform simple upper and lower blepharoplasty procedures, such as removing excess fat or skin, using local anesthesia; more invasive procedures require general anesthesia.
How Do You Perform Upper Eyelid Surgery?
Dr. Hobgood begins by measuring your eyelids and making marks along the intended incision area. He makes this incision in the crease of your upper eyelid, which helps to ensure that any resulting scars are as discreet as possible. Through these delicate incisions, Dr. Hobgood removes any excess fatty tissue and skin and tightens the remaining skin. Once this is finished, he sutures the incisions using ultrafine stitches, which minimizes scarring.
A Reputation Built on Results
Dr. Hobgood is a very skilled surgeon. He is very good at what he does. He has a wonderful bedside manor,...
Dr. Hobgood is seriously a fantastic surgeon. Not only is his work perfect, but he puts your mind at...
Really Dr. Hobgood does not need any reviews! His reputation alone speaks volumes! I took my daughter...
Dr. Hobgood is amazing! I had a rhinoplasty with him and love my results! He's very talented at what...
How Do You Perform Lower Eyelid Surgery?
Because lower eyelid surgery can be very complicated, Dr. Hobgood educates patients about a variety of factors he considers when planning the procedure, including:
Natural anatomy
Age-related changes in the skin
Facial volume loss
Herniated fat bags
Wrinkling
After assessing these factors, he recommends the most conservative and safest approach for the surgery. Dr. Hobgood may recommend the highly technical transconjunctival approach where the incision is placed internally against the inner surface of the lower eyelid. External incisions hidden under the lashes are always necessary if skin is to be removed as well. Dr. Hobgood frequently recommends preserving the natural volume of fat bags and relocating these to the hollow areas known as tear troughs. Lastly, many patients have a wrinkled skin surface under the eyes that requires tightening with a laser or chemical peel.
What Can I Expect After Eyelid Surgery?
Eye on the prize. Bruising, mild tenderness, and swelling are common and typically fade within 10 to 14 days. Be patient as this delicate area heals.
Tired eyes. Many patients experience dry, itchy, or heavy-feeling eyes after the surgery. Dr. Hobgood will prescribe eye drops that can alleviate these symptoms.
Stitches. If you had surgery only on your upper lids, you'll likely have your stitches removed about 6 days after surgery. Dr. Hobgood uses dissolvable sutures in the lower eyelids, so they'll disappear on their own.
How Can I Speed Up Recovery After Eyelid Surgery?
Dr. Hobgood strongly recommends that his patients follow the post-surgical instructions he provides to reduce the risk of complications and ensure optimal healing and results. Here are some things you can do to accelerate healing and minimize swelling:
Apply ice packs to your eyes as often as possible for the first 72 hours. You can make ice packs by placing a soft washcloth, cotton pad, or 4×4 gauze pad in a bowl of melting ice and wringing it out thoroughly before applying. You may also use frozen peas in a plastic bag with a thin washcloth between the plastic and your skin. Never place ice directly on your face.
Keep your head elevated while you're lying down for the first 3 days.
Keep the eye area clean for a week after surgery to help prevent infection. Use Q-tips to clean the incision line with hydrogen peroxide and apply antibiotic ointment 3 times each day.
You will receive information regarding places or activities to avoid during the recovery process.
Common Questions About Eyelid Surgery
How long does eyelid surgery take?
When performed on the upper eyelids, the surgery can take between 1 and 3 hours, depending on the extent of work that needs to be done. However, in most cases, the surgery should only take about an hour. A procedure focused on the lower eyelids can last between 1 and 2 hours.
How long does it take to recover from eyelid surgery?
Most of our blepharoplasty patients can go back to work approximately 2 weeks after surgery, but some people prefer to wait longer to give their side effects time to diminish further.
When can you drive after eyelid surgery?
You may drive when your vision is clear, swelling has subsided, and you are not taking prescription pain medication.
Does insurance cover blepharoplasty?
Our focus is on natural, soft, and safe rejuvenation of the eye area. Unfortunately, we do not offer the more limited procedures covered through insurance companies and recommend these patients meet with our trusted oculoplastic surgery colleagues.
What are the risks of eyelid surgery?
Any type of surgery has some associated risks, but blepharoplasty is widely regarded as a safe, effective procedure. Potential complications include excessive bleeding, infection, dry or irritated eyes, difficulty closing eyes, scarring, damage to the eye muscles, and temporary blurred vision. It is important to note, however, that these are rare, and that most of Dr. Hobgood's patients experience an uneventful recovery and very satisfying results.
Ready to Talk With Dr. Hobgood?
Learn more about eyelid surgery and how people from Mesa, Tempe, Chandler, and other nearby cities trust Dr. Hobgood for this procedure. Request a consultation online, or call our office at (480) 418-6415 to set up your appointment.