Neck Lift
"Turkey neck," neck bands, and excess fat can cause you to appear years older than you actually are. Phoenix women and men come to our Scottsdale practice to get neck lift surgery because they want a slimmer, more defined jaw and chin without undergoing a full facelift. Double board-certified facial plastic surgery specialist Dr. Todd Hobgood creates results that look natural, so people will notice a difference without realizing you've undergone plastic surgery.
What Is a Neck Lift?
A neck lift is a surgical procedure for removing loose skin and tightening muscles. For many men and women, it is a way to refresh their appearance, sometimes even taking years off their perceived age. Slimming and smoothing the neck can improve self-confidence and alleviate self-consciousness about deep creases or loose, sagging skin. Dr. Hobgood may also recommend pairing the procedure with a lower facelift or other facial plastic surgeries to create a fully rejuvenated look.
Your Procedure
Dr. Hobgood performs neck lifts in the Chandler area as outpatient procedures using general anesthesia. This means you'll return home on the day of the surgery. The procedure typically lasts 4 to 6 hours, depending on the extent of the surgery needed. Dr. Hobgood begins the surgery by making incisions under the chin and behind the ears. He then removes unwanted fat, tightens the underlying muscles, and trims off excess skin. He carefully re-drapes the remaining skin without pulling it too tight to create a smoother, more youthful-looking appearance.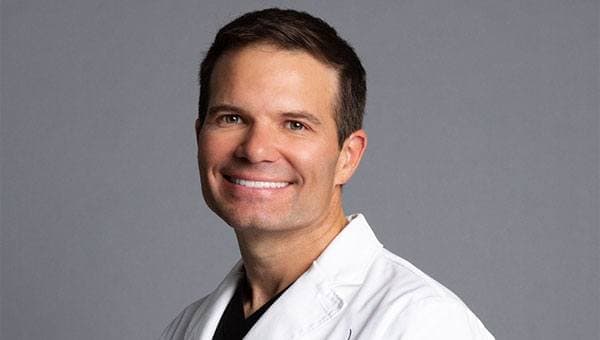 Dr. Todd Hobgood
Dr. Hobgood combines his down-to-earth, personable demeanor with an artistic eye and technical expertise honed through thousands of surgeries, including more than 1,000 facelifts. He's recognized nationally for his leadership and has been honored by the American Academy of Facial Plastic and Reconstructive Surgery for his ongoing commitment to quality.
Meet Dr. Hobgood
Neck Lift Recovery
Neck lift patients can expect to take about 1 to 2 weeks to recover before returning to work. The length of time varies depending on each patient's natural healing process and the extent of the surgery performed. Most patients experience some bruising and swelling, and some patients may also feel some tightness or pulling in the days after the surgery. Post-op discomfort can be managed with prescription pain medication.
Once the swelling begins subsiding, you'll begin noticing the results. It can take a few more months before you see the final outcome of the surgery—a smoother, tighter, more contoured neck. Because Dr. Hobgood takes great care when making the incisions, scarring is minimal.
Choosing Dr. Hobgood for your procedure means that you are getting the expertise of a double board-certified facial plastic surgeon with years of experience performing facial surgeries. Women and men considering a neck lift come from Paradise Valley, the greater Phoenix area, and throughout the Southwest to have Dr. Hobgood perform their surgeries. Request a consultation using the online form or call us at (480) 418-6415 to schedule an appointment.
A Reputation Built on Results
Dr. Hobgood is a very skilled surgeon. He is very good at what he does. He has a wonderful bedside manor,...
Dr. Hobgood is seriously a fantastic surgeon. Not only is his work perfect, but he puts your mind at...
Really Dr. Hobgood does not need any reviews! His reputation alone speaks volumes! I took my daughter...
Dr. Hobgood is amazing! I had a rhinoplasty with him and love my results! He's very talented at what...
FAQ
How much does a neck lift cost?
The cost of any cosmetic surgery varies depending on several factors, including the geographic location of the practice, the experience and training of the surgeon, and the extent of the procedure itself. During your consultation, we discuss what you can expect to pay based on your particular case.
Are there neck lift alternatives?
Sometimes patients thinking about a neck lift may be better served by a different treatment approach. Liposuction, for example, may be all that's needed to create a more defined neck and jawline. KYBELLA® is a nonsurgical option for reducing the appearance of a double chin.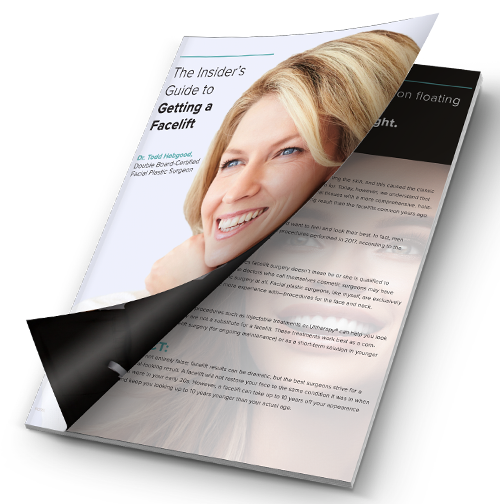 A Must-Have for Facelift Patients
"The Insider's Guide to Getting a Facelift" is the definitive e-book that distinguishes facts from myths and describes the journey of a facelift patient with engaging content and easy-to-understand illustrations.
Double board-certified facial plastic surgeon Dr. Todd Hobgood is one of the leading facelift experts in the U.S., and he's drawn on years of experience to create this Insider's Guide.
Dr. Hobgood's Insider's Guide describes:
Why modern facelift techniques create results that look natural
Who is a good candidate for a facelift
What the difference is between a full and a mini facelift
When you can expect to see friends socially after a facelift
Submit the form below to receive our free eGuide as part of a short series of emails on Facelift.
Fields marked * are required.